November is a much anticipated month on the Jumia Calendar, as customers get to enjoy a wide range of products and best deals on Jumia Black Friday. A couple of days into the launch of Jumia Black Friday on November 2nd has attracted over six times more traffic to the website at than last year. With the best prices on their diverse products and best, Jumia today has over 4 million products for sale as compared to 30,000 last year.
" There has been really big numbers, particularly on the app users shopping online this year, encouraging more customers to download the Jumia App. Best deals are exclusively on the app, which is much faster and consumes less data and user-friendly. For a better shopping experience, we have encouraged our customers to shop from the app to have to access best deals, flash sales, and treasure hunt, " said Sam Chappatte, Managing Director Jumia Kenya
Black Friday 2018 Day One.
On day one, close to 1 Million people visited the website on Friday, averaging twice bigger than last year.
" Jumia Black Friday 2018 Day one beat the biggest ever month in terms of the number of vendors sales. One million people visiting our website is quite a big number. I toured our customer pick up points and vendors drop off points on CBD and they were really busy," said Sam
With hundreds of people in the Jumia stores and an activation team, Jumia has been able to do tonnes of orders in its first week of Black Friday. Customers are able to access products from their warehouses or drop off from the vendor.
" We care a lot about our customers coming to shop from us and vendors having a good experience working with us cause they have prepared long and hard for this. So far so good," he mentioned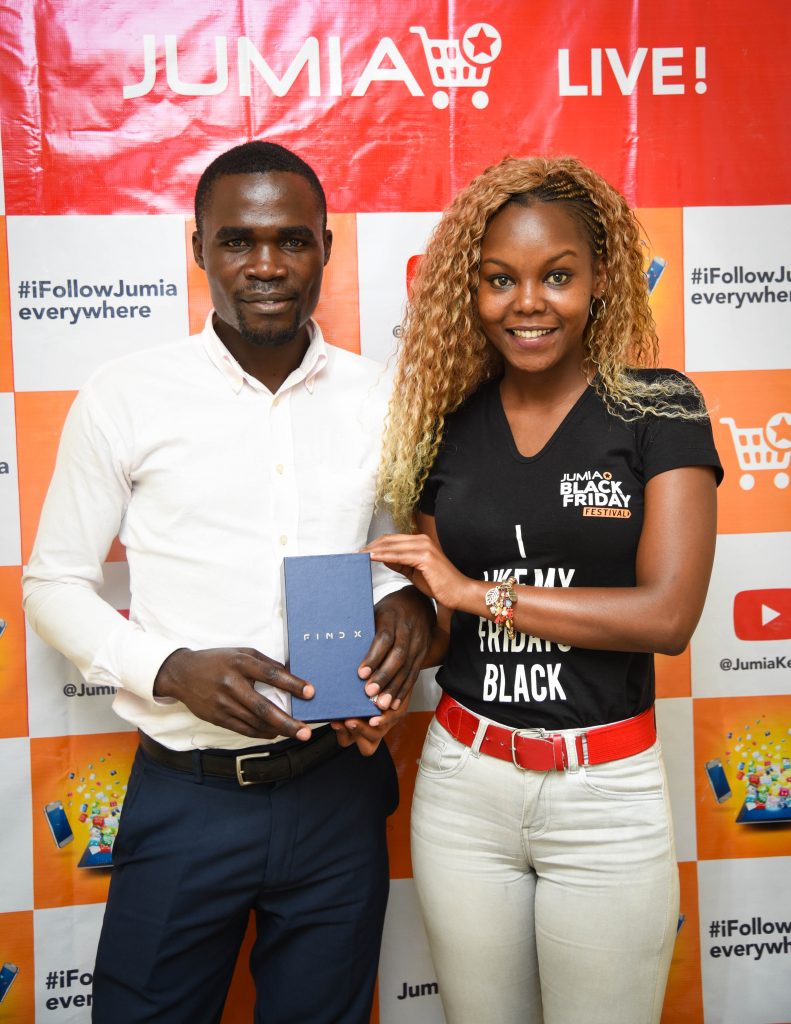 Best selling products on Black Friday day one
Having partnered with Coca-Cola, Jumia launched a campaign dubbed Try Jumia for free on Black Friday. On day one, the small coke bottle was the best selling product on Jumia. Customers ordered 350 ml coke bottle for one shilling delivered to them free anywhere in Nairobi.
"The whole idea was to help people to overcome their fear and have a better understanding of shopping online for the first time," said Sam
TVs were performing really good, with a 32-inch selling at Ksh10,000,  40-inch at Ksh32,000, and 55-inch at Ksh 40,000.
For appliances, a  4 stove cooker by BRUHM selling at Ksh11999 came best, followed by fridges, irons, and blenders.
"The phone category, with our diverse collection, has always performed well, but this year sales have been quite high with customers gaining trust in buying high-end phone models," he added
Consumer preferences seemed to take a different direction course though.
"As of Tuesday morning, we had made thirty sales of a particular size 20 fishing hook. making the product among the best selling on that day" mentioned Sam
Jumia App
" One of the biggest things that have come out strong this year is the Jumia app. is fast to browse and uses less data, making it very convenient for both existing and new customers to shop online. The app has never been that big for us, until this year, when it boomed. We've really pushed for the app, communicating to the customers by putting the best deals in the app to encourage both offline and online shoppers," noted Sam
" checking number users who've of the downloaded app, the total number of daily active users has more than double daily active users which are really big. App users convert better to online shoppers, which is a good thing for us. We want to make it a habit for people to come to our website."
Jumia offline stores.
Offline stalls are such a convenience for shoppers. Jumia has set up a big fixed stall, on CBD Emperor plaza; ago and place order stall. It has partnered with Shell for a pickup station, while other offline stalls are agencies that bring in over 30 transactions in a day.
" The offline activities excite many and we want to scale and model it right. It's a really big thing that actually started in Kenya first at its innovation stage in the industry of e-commerce. Now other markets are embracing it. Some consumers don't understand how e-commerce work and don't trust offline. Offline activities can really serve the purpose."
As for the shop owners making Jumia sales, they are paid commission. Jumia also offers financing, to set up the small stores, investing about 20,000 for marketing license and training.
The significance of Jumia Black Friday to the Kenyan Economy.
Being the Biggest event of the year, Jumia Black Friday is market muscle to reckon with.
" Black Friday is a focal point in the year with a  unique opportunity to bring the customer to the industry, and shop online.  Last year our business doubled, attracting more customers and increasing the size of the industry, and this year it has been much bigger," said Sam
" Black Friday has given Jumia a meaning share in the market, with some categories like some categories like phones and TVs, being more prone. Black Friday is like seeing the future, giving us a sense of how big this thing can be. Black Friday two years ago is everyday business today."
Jumia focuses on polishing its competitive edge, by having the biggest range of products, with the best pricing to become a one-stop online shopping destination in Kenya.