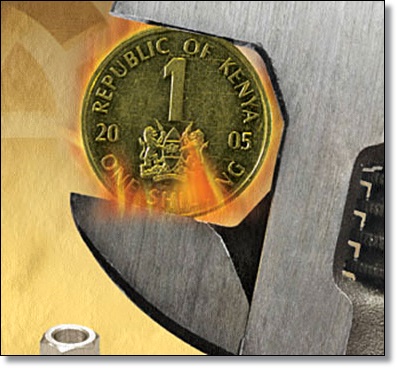 The shilling continued to cede ground against the US dollar as Central Bank of Kenya (CBK) blamed the volatility on 'speculators'.
By close of business yesterday, the shilling had weakened further against the greenback, touching a 15-month low of Sh103.60/80 to the dollar.
But even as some analysts attributed the fall of the shilling to a surge in demand by importers, CBK insisted this was the work of a few opportunists and speculators at banks' treasury departments.
"They are trying to talk it down so that they can make a killing out of the shilling," explained a source at CBK who did not want to be named. The source went on to say that the CBK was aware and would soon act on the culprits.
"The fundamentals and data do not match the trend, CBK knows who they are (the speculators) and will deal with them soon. They know what would happen and that is why they are not allowing themselves to be quoted," said the source.
By Thursday, there were reports that CBK had dug in by selling more United States dollars to traders in a bid to stave off fall of the local unit. According to news agency Reuters, the Central Bank's hard currency reserves have declined by $337 million since the first week of December to $6.97 billion, or the equivalent of 4.56 months' worth of import cover.