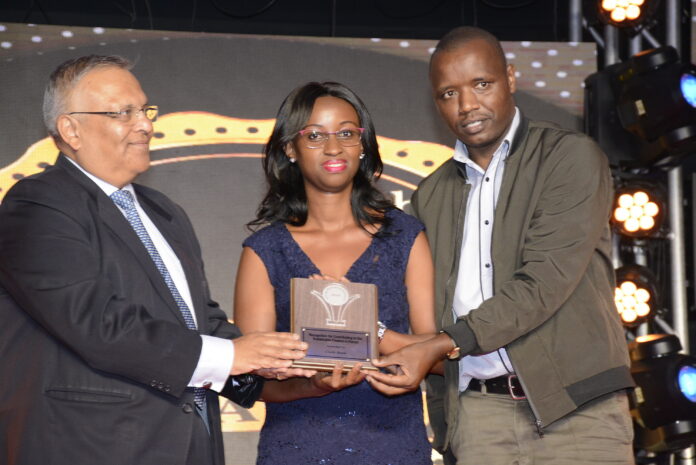 Credit Bank's contribution to Sustainable Finance in Kenya, was recently recognized by Kenya Association of Manufacturers (KAM), during the Energy Management Awards 2019 held at Safari Park Hotel on 12th Of April 2019.
"This recognition is a testament to our mission; ensuring social-economic impact through provision of financial solutions," said the bank.
To understand sustainable finance better, Credit Bank breaks it down to six sections explained below:
Economic
National Economic Survey report by the Central Bank of Kenya (CBK) in 2018 indicated that SMEs constitute 98% of all business in Kenya, create 30% of the jobs annually as well as contribute 3% of the GDP. In recognition of the significant role SMEs play, Credit Bank has positioned itself to serve this segment with specifically designed products and services that meet the unique needs of their customers in various sectors including manufacturing, agriculture, services and trade.
Furthermore, due to the fact that many SMEs (e.g. 400,000 KNBS 2017) collapse within first three years of inception, Credit Bank has partnered with various organizations that provide technical expertise to SMEs to ensure financial instruments by the bank are provided in tandem with technical assistance thus increasing chances of success and contributing to their business longevity and sustainability.
"In addition, part of our portfolio includes climate smart financial solutions tailored towards water harvesting, solar energy and biofuel technology," said the bank. "For example, we are currently financing 11 projects valued at between $15-30 million in the renewable energy sector. To ensure value of the projects, we work with companies ensuring transfer of technical skills to locals."
Technology
According to Credit Bank, technology has greatly enhanced their service delivery. Physical presence is no longer a necessity in ensuring financial solutions are widespread.
"As a Bank, we continually invest in innovative technological solutions to enable distribution of our financial solutions efficiently," they said. "Up to 80% of our customers access our alternative digital channels for services. These channels include Mobile Banking Application, Internet Banking and Agency Banking."
Further, as a Credit Bank customer, one can initiate a credit application online increasing convenience and eliminating extensive paper use. Their award-winning customer service is also a testament to the use of technology as customers' challenges can be resolved simply via call, email or social platforms.
Partnerships
Credit Bank strongly believes in working together and the right collaborative partnerships can yield great synergy. Partnerships further provide a greater resource base and provide avenues for partners to distribute impactful financial solutions. They have, for example, engaged with Kenya Industrial and Research Institute (KIRDI) and Clean Cookstoves Association of Kenya (CCAK) to explore green energy solutions and financing to CCAK's members.
Another partnership they have towards creating sustainable finance is with Camco Clean Energy supported by European Investment Bank to provide training on green energy finance and currently in discussion with Stawi Africa to partner in sustainable agriculture financing. African Guarantee Fund (AGF), another partner, provides capacity building of Credit Bank staff.
Risk Management
It is prudent as a bank that risk management goes beyond traditional credit risk processes. Frameworks the bank uses ensure risk is further assessed on environmental and social impact.
"The process begins identifying potential risks of the projects we finance followed by a thorough assessment of the identified risks," explained Credit Bank. "It is important for the customer to also showcase how they intend to mitigate the potential risks of the project. From the environmental aspect, we ensure projects we finance do not harm the environment. We further have mechanisms in place to monitor the risk profile both before and after approval of the financing."
Energy Resource Management
Part of sustainable finance includes efficient use of (energy) resources as an institution. At Credit Bank, emphasis on this is no less than any other resource. It is a policy to their staff to switch off all lights and further idle power gadgets when they leave the office. Their branch locations ensure large windows fitting for natural light and ventilation. Through the board of directors, staff members are sensitized on energy management through enforcement of set policies, through advocacy and frequent trainings.
Governance
Effective leadership demands being led by example. Compliance starts from the top through implementing standards and procedures that can be grasped by everyone in the Bank. Further, the bank implements these policies in their financial solutions ensuring sustainability.
"A good example is our financing to construction activities," said the bank. "Before approval, we require an Environmental & Social Management Systems (ESMS) in place during and after construction. Our governance structure ensures further compliance to set laws and regulations on matters environment. The board of directors has in place an Environmental and Social Sustainability Policy that further complements the law."
Credit Bank is committed to Sustainable Finance as this gives us a long-term view of their financial activities.