John De'Mathew Biography: Below is the life history of musician John De'Mathew, his family and wealth.
John De'Mathew Biography:
● With 375 songs and 50 albums to his name, John De'Mathew is arguably the most influential artist from Central Kenya.
● REAL NAME: John Ng'ang'a Mwangi son of Mathew (Hence De' Mathew) and the Late Wanjiku.
●  BORN in Gathiru-ini village, Mukurwe sub-location, Gatanga Constituency in Murang'a County over 50 years ago.
Judy Wangui Exposed: From poverty, riches, murder
● He is the 4th Born in a family of 8 kids.
● Schooled in Mukurwe-ini (now Githambia) Primary School, then to Naaro Secondary in Kandara and Igikiro Secondary School.
● Before he ventured into music, De'Mathew used to hawk vegetables at Nairobi's Soko Mjinga market, then sold meat in Kariobangi then left to Nakuru where he sold plastic shoes (Sadak).
MUSIC CAREER:
● He composed his first song while still in Standard 7.
● He was introduced to fulltime music career by Timona Mburu and Joseph Wamumbe who helped him to release his first single "Jenifer" in December 1986 and in August 1987, he released "My Dear Nduku", produced by Albert Gacheru (Wa Maitu), which was the hit that brought him to the limelight.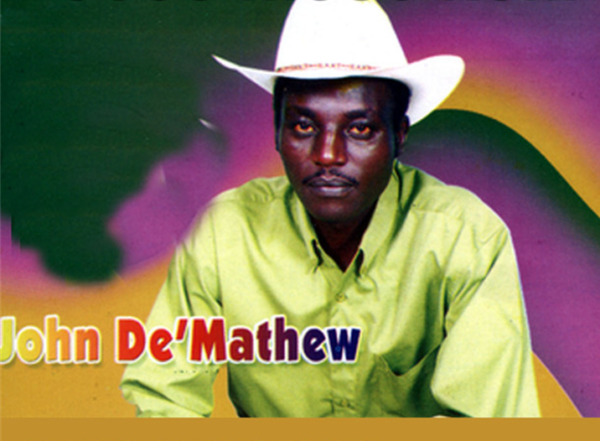 ● His best selling song was "My Dear Nduku" and "Njata Yakwa" which he performed with the current Murang'a Women Rep. Sabina Wanjiru Chege (who he says was never his girlfriend but just a pillar in his music career).
● His (own) favourite songs are "PIN Number" and "Muoyo Ti Kibandi".
● Piracy started eating up their resources in 1992.
● His first car – Nissan Blue Bird which was followed by a Toyota E 91.
MARITAL STATUS:
● De' Mathew is married to two wives and 7 kids.
Sabina Chege:
De'Mathew and Murang'a Women Rep Sabina Chege reportedly had a love affair. The Standard newspaper reports that their love birthed two kids. De'Mathew famously maintained a soft spot for Sabina.
TROUBLE WITH THE LAW:
● De' Mathew was among the 3 Kikuyu musicians who were arrested and charged hate speech in July 2012. The other two were John Muigai alias Muigai wa Njoroge, Mark Kamande wa Kioi.
Death:
● On the night of August 18 2019, John De'Mathew rammed into a trailer while driving his Nissan Navara pick-up near Blue Post Hotel Thika. He was pronounced dead at Thika Nursing Home where he was rushed for treatment.