Kenya's Top 25 Women in Digital 2020 Edition
Jamila Abass, Country Director, Give Directly
Jamila is the Country Director, GiveDirectly that allows governments, foundations, and individual donors to provide direct cash transfers to the extreme poor using the latest technology at every step.
She was previous the Country Manager at Wefarm a free peer-to-peer service that enables farmers to share information via mobile phone, ask questions on farming and receive crowd-sourced answers from other farmers around the world in minutes.
She also worked as the CEO and founder at M-Farm Lt d.
"I am an entrepreneur with a humanitarian heart who seeks to create digital solutions for small-scale farmers who are highly vulnerable to the effects of climate change.
Over the course of strategically leading IT areas, I have had the opportunity to position technology in a way that enables achievement of key business objectives. What I do leads directly to turnarounds, growth, and the strategic application of emerging technologies.
My mission is to create IT products that solve pressing issues for Africans;"
Catherine Adeya, Director of Research, World Wide Web Foundation
Catherine was recently appointed the Director of Research at world Wide Web Foundation that focuses on increasing global access to the internet while ensuring the web is a safe and empowering tool that people can use freely and fully to improve their live. It seeks to achieve digital equality in the world where everyone has the same rights and opportunities online.
She is also a Non-Executive Director, Standard Chartered Bank where she chairs Information Technology (IT) Committee
She is the founding Chief Executive Officer at  Konza Technopolis Development Authority (KOTDA) where she was in charge of developing and implementing Konza Techno City's value proposition to the business community, media and the public. She Facilitated KOTDA set up from scratch to operationalization.
She previously served as a Senior Consultant at Strathmore University with the key role of establishing the East Africa Centre for Internet Governance and Policy Research (CIGAP).  In September 2019, Strathmore University fully approved the establishment of the Centre for Internet Governance and Policy after her several presentations to the committee, council and  the Strathmore University Management Board.
She has been a Judge at several digital technology competitions including Women in Tech with Standard Chartered and Strathmore University, Ms Geek Africa, Transform Africa Summit, Innovation Prize for Africa (IPA. She has also been a chief judge Kenya Vision 2030 ICT Innovation Awards.
Esther Kinuthia, Regional Sales Program Manager, facebook
In her current role as Facebook Regional Sales Program Manager, Esther is responsible for managing and developing programs for Facebook and Instagram advertisers across EMEA to optimize Facebook's advertising support solutions.
She is the Co-founder, Young Kenyans in Technology that brings together a quality and powerful network of Young Kenyans in Technology through which they can grow from one another, exchange ideas and collaborate.
She previously worked at Google as a Solution Consultant, Measurement & Attribution where she specialized in Google's measurement products.
As an industry analyst at Google, she designed a scale program from scratch that saw several small businesses use Google to grow their business.
 She was an Online Campaign Brand Ambassador for Suzie Beauty Shop and a Digital accounts manager at Blueprint Agency.
Esther runs well curated digital trends sessions for C-suite executives in her digital platforms.
"I am a metrics driven professional with 5+ years of experience growing businesses at Google and Facebook. Expert in the Art of bridging opportunities between market insights and business impact"
Faith Nkatha Gitonga, Country Manager Kenya, Cellulant
Faith is the country Manager at Cellulant  a fintech company with a  digital payment platform  that  provides a reliable, real-time link to all things digital payments across Africa.
She joined Cellulant from Oracle Corporation, where she helped the Kenyan public sector with transformational solutions to improve their internal processes, Generate and grow revenue to increase Kenya's competitiveness in the global economy.
She is also a board Member at Women on boards Network Kenya where she chairs Finance, Partnerships and Administration Committee
Faith previously worked at Sidian Bank Kenya and SBM bank Kenya. She is also an advisor at my Prosper.
"I am a highly accomplished leader with a proven track record of driving digital transformation."
Angie Madara, Founder & CEO, Growd Global Ltd
Angie is the Co-founder and CEO of Growd Global Ltd a child-centered EdTech platform that helps parents and their children design their learning experiences or classrooms.
She also works at Knight Stirling Consulting as the Digital Financial Services Senior consultant where she helps clients and partnering organizations optimize their digital financial strategies and support them through digital and multi-channel transnational programs.
Angie is an active member of the Mobile Payments Association and the World Economics Association and a regular contributor to the Economist Intelligence Unit where she pens annual assessments of the state of the world's financial and digital inclusion landscape.
"I have been involved in the design, testing, and roll-out of a varied number of digital products across Africa and South East Asia. I have worked with governments, financial institutions, Mobile Network Operators and Non-Governmental Organizations to develop innovative products, regulatory frameworks, go-to-market strategies and alternative delivery channels for Digital Financial Services and Digital Information Services including M-PESA which is world-renowned for its innovative and financial inclusion projects; The Helix Institute of Digital Finance, where i developed the curriculum for the World's first digital financial services training academy and many more."
Elsa Majimbo, Digital , Content Creator,
Elsa Majimbo is a fast rising star in the online entertainment space where she regularly shares hilarious videos on her digital channels that have grown within a very short time to attract engagement from not only local celebrities but also world celebrated personalities. She has received mentions from Steve Harvey, Usain Bolt Chrissy Teigen with majority of her fans based in south Africa.
She has a unique and corny way of presenting her jokes accompanied by hearty laughter, late night crisp and glasses as part of her accessories.
At 19 years, Elsa recently signed a commercial contract with Fenty a fashion brand owned by Rihanna a world celebrated musician.
She is also working with different brands as a digital marketing influencer due to her huge network of valuable audiences.
Elsa won the E! People's Choice Awards African Social Star of 2020.
Azziad Nasenya, Digital Content creator, Rising Star
Azziad is a 20 years old rising star in the online entertainment and arts industry. She is an actor, content creator, media host and social media personality. Although she has huge following on Facebook, Twitter, Instagram and YouTube, her rise to fame was catapulted by a viral lip-synch dance that was well choreographed on TikTok the new social media network where she has more than 700K fans! They gave her the title "East Africa TikTok Queen". She hosts The Shoe Game with Azziad on her YouTube channel, where she explores the stories behind her guests' shoes
Her huge digital presence and influence has attracted top brands interested in connecting with her followers through advertising. She is a well-organized social media influencer fully managed by a professional manager who creates business relationships with brands, negotiates terms of engagements and sign contracts on her behalf.
Azziad performed solo verses while in high school, competing to the National Level at the Kenya Schools and Colleges Drama Festival. In December 2017, having completed her secondary education, Azziad joined the Hearts of Art Theatre Group in Nairobi, Kenya. She has been a cast in different Television shows including Selina.
In September 2020, Azziad was appointed as an official global ambassador for the Save Our Future campaign.
Ivy Muigai, Communications Officer, Zetech University
Ivy is the Communications Officer at Zetech University where she is involved in digital content development, distribution and overall management of institutions digital assets.
 One of her most outstanding achievements is her involvement in digital mentorship programs that have seen many young people acquire digital skills from key industry experts. She is a passionate digital skills speaker, trainer and a practitioner involved in different thought leadership initiatives. Her work at Zetech has been nominated for the prestigious Social Media Awards (SOMA) several times.
She previously worked at Gina Din Corporate Communications as media executive and Ministry of Foreign Affairs where she was in charge of Web content.
"I am a strong media and communication professional with experience in the PR and digital communications field. Experienced communication officer with a demonstrated history of working in the education management industry as well as the PR agency world. Skilled in Storytelling, Digital media, Crisis Communications, and Event Management."
Pauline Masese, Group PR Associate, Jumia Kenya
Pauline is the Group PR Associate at Jumia, an online marketplace for electronics, and fashion among others product lines. She handles a regional management responsible for driving and executing both the internal and external PR and communication strategies across 12 African countries.
Pauline has become a growth and development expert of Ecommerce businesses through strong digital communications strategies that target the right audiences. She is one of the leads in the annual Jumia mobile reports that has become a valuable provider of industry statistics and data.
Before joining Jumia, she was the Public Relations Manager at MIH Internet Africa (Naspers) where she extensively used online and traditional media to promote and expand reach of key brand campaigns.
Pauline is a devoted supporter of youth digital literacy programs. She is a regular speaker at different youth digital transformation outreach programs and a facilitator of ecommerce thought leadership events that have elevated industry players to the global stage.
"I am a prolific communications professional with over eight years of experience. As the Communication Manager, Jumia Kenya, I handle Public Relations, Corporate Communications, Events, Brand, and Content Management. Other areas of specialization include but not limited to Business Development, Crisis Communication, CRM, Change and stakeholder management as well as media relations and training."
Sylvia Nyokabi, Twitter Client Partner, AdDynamo
Sylvia is the Twitter client partner at AdDynamo Africa's largest digital media sales business, representing Twitter, Snapchat, Spotify, Verizon Media & Out There Media. She is involved in engaging clients to adopt twitter as one of the advertising channels. She has been involved in different digital literacy training programs including women in digital community.
She previously worked for Brand2D as Client Service Director where she was the lead in developing digital marketing strategies. She also worked at 360 Degrees Africa as account Manager.
"I am a digital marketing expert with experience in East, West and Southern African markets. Great at managing client relationships, developing B2C strategic campaigns that drive measurable value, valuable leadership experience in team growth and driving overall business revenue, sustenance and growth."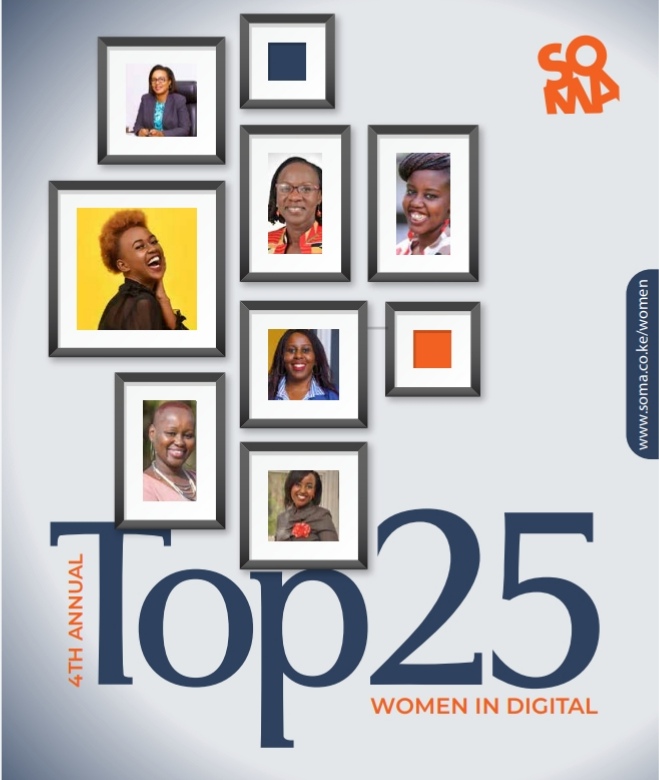 Angela Mwirigi, Director, Digital Financial Services, KCB Group Ltd
Angela was recently appointed the Director, Digital Financial Services at KCB Group Ltd the largest financial services provider in East & Central Africa in assets. She is tasked with the responsibility of driving the growth and adoption of the banks digital products and innovations.
She previously served KCB Group Ltd as Director Marketing & Communications where she was involved in supporting different communication innovations and programs.
Angela also worked at EABL as the Regional Marketing Manager – Partner Brands and Diageo as the Innovations Marketing Manager tasked with the responsibility of   Formulating and developing Innovation Strategy and Pipeline to achieve an optimized portfolio.
She has acquired immense experience in the banking industry that will see great transformation of financial technology not only in KCB but the entire industry.
Dorothy Ghettuba Pala, Manager Africa Originals Series, Netflix
Dorothy recently joined Netflix as the Manager, Africa Originals series.  Netflix is a  content platform and production company offering online streaming services from a library of films and television series.
Dorothy is also the Chief executive officer at Spielworks Media is East Africa's premium content creator, producer and broadcaster of African content for both linear and digital platforms.
She is a board member at Onwards Kenya and was a presenter at The TEDx Lavington Women 2016 on 'creating opportunities for creatives.
"I am a Creative Crusader. With over 12 years' experience in the entertainment industry, I have   produced 20 television shows, 41 movies and 15 web shows totaling to over 1000 episodes of programming. I am also a Graduate of the Bucerius School on Global Governance and Stanford Business School SEED Program for Developing Economies."
Kendi Ntwiga, Country Manager, Microsoft
Kendi was recently appointed the Country Leader at Microsoft Kenya. She is responsible for developing and maintaining effective relationships across the company's subsidiaries, regional sales and marketing departments.
Before joining Microsoft, Kendi served as the General Manager of the East, West and Central Africa Cluster for Check Point Software.
She previous worked as the Territory Lead – SSA, Intel Security, Intel Corporation, responsible for running the Intel Security (McAfee) business in Sub- Sahara Africa (SSA), Oracle as the sales manager applications and Hewlett Packard as the Territorial Sales Manager, Software East Africa.
Kendi is also the founder of She-Goes-Tech, an initiative created with the purpose of mentoring young girls and women who are pursuing STEM careers.
"I am an analytical thinker who has mastered the art of applying various technology to solve business issues in order to achieve expected results. I am passionate about the potential for technology to accelerate trade and commerce in Africa, I have been most fulfilled when I have managed to successfully outline the technology adoption road map for organizations that have gone on to achieve results of gained efficiency, reduced costs and attained growth in an easy to replicate model."
Caroline Mukiira, Regional General Manager, IBM East Africa
Caroline Mukiira is the Regional General Manager for IBM East Africa responsible for sales, Marketing, and global delivery operations across 8 countries.
Before this new appointment, Caroline led the IBM TradeLens Blockchain business for Middle East and Africa across 70 countries.
Prior to this role, she was the IBM's Global Business Services for East Africa accountable for the day to day operations, strategy execution and overall P & L of IBM's consulting practice across 8 countries in East Africa. In this role, Caroline brought together geographies, service lines, consulting talent, industries, and market functions to provide exceptional service to IBM clients within East Africa.
Prior to joining IBM, Caroline was based in Manhattan, New York, working for Accenture where she held several leadership roles, including a global leadership role within Accenture's Financial Services Sector. She was instrumental in shaping the five-year strategy for Accenture's Insurance vertical to become a 2.5 Billion (USD) Industry.
Carolyne Kendi , Head of Brand & Marketing Communications at Safaricom PLC
Carolyne is the Head of brand and marketing communications at Safaricom PLC where she has been instrumental in advancing use, adoption and application of digital communication to grow the brand connection with customers. Her role in the recent "INEOS 1:59 Challenge" demonstrated how organizations can effectively use digital media to advance brand engagement through digital platforms.
According to market analysis, the temporary Safaricom rebrand, with the tagline "Eliud 1:59: From Kenya to the world – no human is limited," created 12 billion impressions worldwide, with an all-time high of 85.5 per cent positive brand sentiment and an impressive 1.5 million engagements.
"Twitter enabled Kenyans to take the front seat and rally the 'world's fastest man' through their messages using a custom emoji created for a once-in-a-lifetime event. The emoji and mosaic allowed each individual connect to something bigger than them; it made them connect with each other." Explained Carolyne Kendi.
She previous worked at Unilever as the Head of Marketing, Brand Development & Strategy. She also worked at Diageo as Marketing Manager and Unilever as Brand Manager.
Carolyne is a passionate speaker who shares her knowledge and experience with digital marketing industry practitioners on a regular basis.
Catherine Mudachi , Vice President Marketing, Copia Global
Catherine is the Vice-President marketing at Copia Global a company that leverages a network of digitally-enabled, locally based agents to meets online consumers.
Before her current role, she worked at Safaricom PLC as Senior Manager Brand & Marketing Communications responsible for the marketing function for the Eastern Africa region. She also worked at Coca Cola Kenya as marketing manager and Weetabix as Head of Marketing.
Catherine is passionate about youth and women in digital and has been involved in different speaking engagement to advance digital and ecommerce skills.
 "I have over 14 years' extensive experience in both B2B and B2C Marketing strategy and execution, across Europe and East Africa. Responsible for award winning Marketing campaigns and product launches. Experience in through the line marketing across different sectors (global glass & architectural glazing systems, beverages, cereal), working with distributors, key retail accounts and end consumers, resulting in game changing and innovative marketing activations, delivering top and bottom line results."
Njoki Chege Director, Innovation Centre Aga Khan University (GSMC)
Dr. Njoki is the Director, Innovation Centre and Projects at the Graduate School of Media and Communications (GMSC) of the Aga Khan University. She is responsible for the delivery of high-quality value-added services to the media innovators and entrepreneurs and oversee the proper implementation of the center's strategic planning process.
Dr. Njoki has demonstrated her passion for digital media through consistent East Africa media innovation challenges organized at (GSMC) that seeks to develop the right skills to shape the future of media and communications in the digital age. She is also involved in different speaking events that highlight digital media trends and encourage innovative use of digital as a communication platform.
She runs OP-Ed Column at Nation Media Group and has previously worked at Standard Group Ltd as Features Writer.
She recently completing her PhD, Communication and media studies at Daystar University.
Cynthia Otoro, Digital Marketing Manager & Communications Lead, Jambojet
Cynthia is a Seasoned digital native with a demonstrated history of working in the marketing and advertising industry skilled in digital marketing, communication, and Sales.
Her current role as the Digital Marketing Manager and Communications Lead at Jambojet include Initiating, planning and implementing digital sales and marketing communication campaigns, focused at meeting online revenue and awareness targets while ensuring a seamless experience across all e-commerce, social media, mobile and online media channels.
She previously worked as the Digital Marketing Lead, Access Leo Burnett preparing digital strategies for key clients
Her work has received recognition in different award nominations.
Sarah Oyungu , Director of Digital Marketing Africa, Standard Chartered Bank
Sarah Provides leadership and transformational insights to the SCB strategic digital marketing activities across Africa and within the Corporate Affairs, Brand and Marketing.
 Before joining standard chartered Bank as the Director of Digital Marketing Africa, Sarah worked as the Senior Brand Manager, Execution and Strategy at Airtel Africa where she Provided strategic leadership and guidance on brand activities for Airtel operations in 17 Anglophone and Francophone countries.
Sarah has extensive experience in financial technology, telecommunication and digital marketing. She is a regular contributor on digital trends thought leadership programs and women in digital networks where she shares her experience and expertise.
"I am a lover of all things creative and orderly, I marry my expertise as a communicator, marketer, digital media strategist, and brand advocate to deliver programs, campaigns, events and initiatives that increase market and mind share, build customer buy-in, generate revenue, and fulfil organizational goals. An effective manager and leader, I have worked with corporations, individuals, startups, and nonprofits across the US, Africa, the Middle East and Asia.'
20. Ms Nadia Ahmed Abdalla – Chief Administrative Secretary, Ministry of ICT, Innovation and Youth Affairs
 In the beginning of 2020, The President of Kenya appointed Nadia a 29-year-old woman as the youngest Chief Administrative Secretary, Ministry of ICT, Innovation and Youth Affairs where she is involved in formulation of ICT policies and driving the growth of technology in the country.
She is also a Co –Chair, UNDP Kenya Youth Sounding Board a consultations product between UNDP and Ministry of ICT, Innovation and Youth Affairs and championed by UNDP as a programmatic platform of engagement through governance and inclusive growth and environment and climate change resilience portfolios.
Nadia is the Author of a book called 'The Feminist in Us'. She participated "Miss President' Television show that prepares women to become great leaders through civic education, government functions, and policies formulation training.
"I am driven by the zeal and attitude to amplify 3 things among young women and youth like myself which are; Representation in the different fields and talents women and youths are in, Participation as a way of being heard and innovations being seen as a form of job creations and entrepreneurial skills and promotion of both social and national cohesion to bring together young women and youth as a way to empower and champion them towards socio-economic development of our nation. I am also a strong champion and advocate for Mental Health as I believe it is one of the key drivers when it comes to maximizing on each of our abilities & talents to support the big 4 agenda and sustainable development goals"
Shitawa Maryam, Marketing and Communications Manager, Nissan Kenya
Maryam current role as Marketing and Communications Manager at Nissan Kenya includes development of digital communication, constant monitoring and evaluation of campaigns to track performance and ensuring KPIs are met with periodic reports.
She previously worked at Bidco Africa as Digital Marketing & Communications Lead where she developed digital products and solutions to deliver on business outcomes for the digital unit.
She was also a Digital Lead Creative at VMLY&R where she managed social media communities for various businesses in different sub-Saharan Markets.
Shitawa has also worked at Ogilvy as a Senior Community Associate and Community manager at Eat out Kenya where she managed digital assets.
"Working hard gives me such a thrill and I'm not afraid of doing some heavy lifting either when it comes to marketing & communications. I hold 2 degrees in B.Com (Marketing) and B.A (Advertising) from Daystar University.
I started my career at Eat Out Kenya in 2011 then joined OgilvyOne (Scangroup/WPP) in 2013, followed through VML Y&R, then Bidco Africa as the Digital Lead and now Marketing and Communications Officer at Nissan Kenya. I have experience in Communications, Marketing, PR & Account Management in Sub-Saharan markets.
I live by the Luke Sullivan quote, 'Good marketing builds sales. Great advertising builds factories."
Agnes Gathaiya, Country Director East Africa at Google
Agnes joined Google in August 2020 as the country Director, East Africa. She is responsible for managing Google regional operations for East Africa, prioritizing markets and leading sales growth.
 Agnes has more than 21 years of experience working in telecommunication, banking and enterprise services. Before joining Google, she was the Chief Executive of, Pesa Link, Integrated Payment Services Limited (IPSL)
She was the Head of Enterprise Sales SME, Channel and Regional Operations at Safaricom PLC and Director, SAP where she created SAP's strategy for large enterprise segment covering financial services public sector, energy and renewable resources industries in 7 countries.
Agnes sits on several boards including One Acre Fund, United way, African Women in Fintech and Payments, and the Payments Association of Kenya.
Shikoh Gitau, Chief Executive Officer , Qhala
Shikoh is the CEO of Qhala a team of problem solvers driven by a passion to lead Africa's digital transformation by combining rigorous problem-solving methodologies with cutting-edge digital tools and data to build a new generation of products, services, experiences and business models that address current needs and invoke future growth.
She is currently a Member, COVID-19 ICT Advisory Committee and Data Analytics Modelling Committee advising the government of Kenya on response of COVID-19 using Technology and Data.
She previously worked at Safaricom as head of products, Alpha where she was in charge of development and execution of Innovation strategy including the set-up of the innovation hub set out as a knowledge-based, data-driven and human-centered organization.
She also worked at Africa Development Bank as the ICT and Innovation Expert, New Deal on Energy for Africa where she was selected as Mobile Money and ICT specialist in the presidential task force.
Shikoh has also worked at Mercy Corps, Google and Microsoft Research.
"Over the past decade, I have applied digital technology in various sectors, Public, Private and Non-profit, as well as various domains Health, Education, Energy, Employment, Payments, Commerce and Agriculture. Understanding and learning traditional sectors and business domains, methodologies, and frameworks, and then rethinking them for the digital world is my Modus Operandi.
I speak and write on topics around digital transformation, digital payments, Women in Technology, Africa, Mental Health in the workplace and Spirituality.
I run! yes, the world! But also, on the road! Having run two half marathons annually over the past few years, I plan to run a full marathon in 2020."
Njeri (Carol) Mwangi, Head of Brand and Communication at Airtel Kenya
Njeri is the head of brand and Communication at Airtel Limited a leading global telecommunications company with operations in 20 countries across Asia and Africa.
Njeri has vast experience and exposure in telecommunications, fintech and digital communications. She has been involved in different projects in leading brands directly or through agencies.
Before joining Airtel, she worked at Sidian bank as the Head of Marketing, Digital and Communication.
She also worked at Barclays Bank now Absa as the Marketing Manager, Pesalink as Marketing manager and Ogilvy as Group Account Director.
Njeri is passionate about transformational leadership demonstrated through her involvement with youth programs. She has been Board of Advisors Chair at AIESEC Daystar University.
Wayua Muli, Lead, New Ventures at Nation Media Group (NMG)
Wayua Muli was recently appointed the lead, new ventures at NMG a position that is aligned to the emerging digital transformation trends in the media industry. The celebrated journalist who has generated content for different media channels is tasked with design, development and execution of innovative content monetization models.
Her role revolves around use of consumer data and analytics to create content monetization models applicable in different digital platforms. This is in response to the impact of the global digital disruption of legacy media channels and the emergency of a digital news consumer interested in personalized experiences. Wayuas role will map out content consumption patterns by different segments of content consumers and create monetization models tailored towards individual spenders and brands.
Before this appointment, wayua was the editor Sunday Nation a position she held for 1 year 9 months and the Editor, Saturday Magazine in the Saturday Nation for more than six years.
Wayua has edited True Love (East Africa) magazine, the features sections of The Monitor newspaper in Uganda and Eve magazine.
With more than 21 years' experience in content creation and editorial for different generations of consumers, her new role will deliver new digital content monetization models applicable in media houses.
"My Specialties include niche markets content conceptualization and targeting, content direction and content marketing. "