As Kenya Airways inches closer to direct flights to the US, over 7,000 travellers have already booked their seats. This massive booking has also seen the inaugural flight to New York over-booked by 80 per cent. Kenya Airways' direct flights to New York ahead of the October inaugural journey.
The bookings are spread across the year starting October 28 when the first ever direct commercial flight from Nairobi to New York will take off.
"To date we have over 7,000 bookings for the New York route with expected cabin factor of above 80 per cent for the inaugural flight. We are entering the booking window and expect to take off with a much higher occupancy," said Kenya Airways' sales director, Julius Thairu.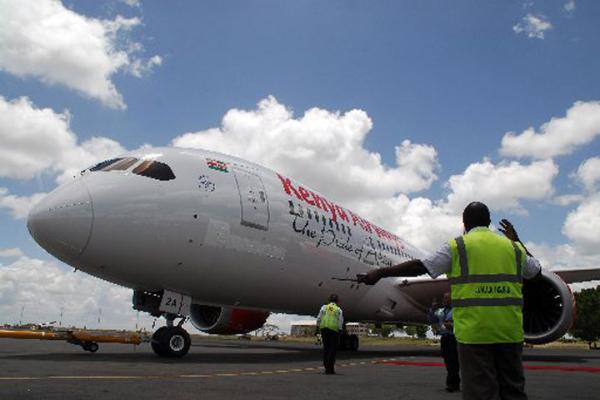 The airline expects the inaugural flight to be fully booked with last-minute reservations.
The Kenya Civil Aviation Authority (KCAA) director-general, Gilbert Kibe, and the agency's board members will be leading an advance team from Kenya to New York two days before the inaugural flight to receive the airline at the JFK International Airport.
KQ opened the direct flight bookings in January to allow passengers plan on their travels ahead of time.
The airline's chief executive officer, Sebastian Mikosz, told Parliament in June that the booking had been low since reservations were opened, but remained optimistic sales would pick up from this month.
"We just have quite (a few) tickets sold, but still the biggest selling window is ahead of us. So we have no reason to be pessimistic, but it is still a challenge," Mr Mikosz said.
On Wednesday KQ received a major boost after it entered into a codeshare partnership with US-based Delta Air Lines on flights to and from Nairobi.
The deal, which became effective on Wednesday, will see Delta's code placed on KQ's flights from Amsterdam, Paris, London, and Accra to Nairobi, enhancing connectivity and providing customers with seamless travel experience from the United States.
KQ will deploy a Boeing 787 Dreamliner aircraft, which has the capacity to carry up to 335 passengers in a three-class seating configuration.
The two high-capacity aircraft include one of the B787-8 Dreamliners recalled from Oman Air that is set to arrive next month.
The other recalled plane, expected in June 2019, will be redeployed on other routes, taking KQ's Dreamliner fleet to nine.
The long-haul flights will last 15 hours, representing a seven-hour reduction from the current flight time of over 22 hours, including lengthy stopovers.
KQ's management anticipates that direct flights to the US will increase its annual revenues by 10 per cent beginning 2019.
Passengers travelling to JFK will arrive at 6.30 am in time for morning meetings, while the return flight from JKF will depart at 1.30 p.m. and arrive in Nairobi at 10.30 am the following day.
Each trip will have a maximum of 234 passengers — 204 in Economy and the rest in Business Class.
The airline is charging an introductory offer of Sh. 73,230 for a return ticket between Nairobi and New York for passengers travelling on Economy class on October 28.
is is much lower than what other airlines are charging on the same route, which is above Sh. 100,000 two-way.