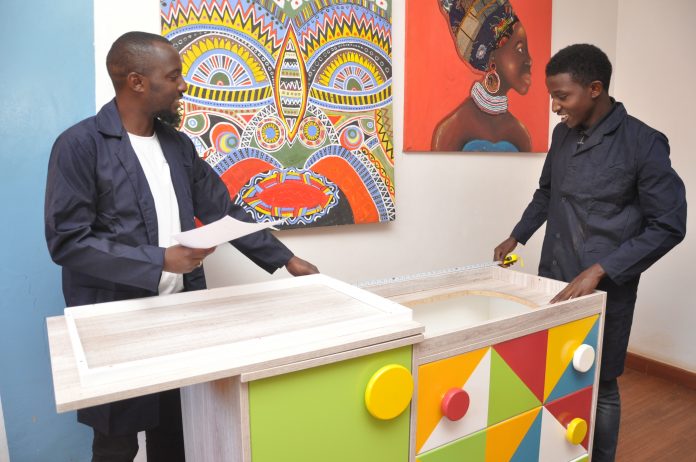 Funkidz was founded in 2010 as an SME and has grown into one of the biggest children's furniture manufacturers in Kenya.  The company makes colourful furniture for children up to the age of 16 using particle board, MDF, wood and fixtures. Some of the products include baby cots, wardrobes, bed side cabinets, chairs and tables.
Ciiru Waweru Waithaka, the Founder of Funkidz, explained, "I felt the need to venture into the furniture manufacturing business due  to the challenges I encountered while shopping around for furniture for my first born child and failing to find the furniture that I wanted . This combined with my passion for design led to the founding of this business".
 "We source some of our raw materials from PG Bison who offer high quality wood based panel furniture components. These are made to the client's specification. Their products are obtained from sustainable and renewable "man made forests" in South Africa and do not affect Kenya's forest cover".
"With the help of both our design and production teams and the modern technology we have invested at the factory we are able to produce furniture that suits our customer's specifications and meets international standards. Over the years we have grown as a business enabling us to export our locally manufactured goods to Uganda and Rwanda".
"We need some timber for the production of our goods. The recent ban on logging in Kenya has resulted in limiting the supply of wood forcing companies to be more innovative by seeking alternative materials like particle boards and MDF. Meanwhile all of us should support the Government's aim of extending forests by planting more trees especially during the coming long rains".
"Some Kenyans like imported goods as opposed to locally manufactured products, but the misconception that local products are substandard should be rectified by increasing public awareness of the high quality achieved by manufacturers. End users should understand these products meet international standards as they are made by trained personnel with the requisite skills".
"The SME sector provides employment opportunities and contributes substantially to the economy. SMEs are a strong foundation for the growth of new industries as well as strengthening existing ones.  The government should encourage more young people to start their own businesses as SMEs generate approximately 35 per cent of Kenya's GDP."
Ciiru Waweru Waithaka concluded, "It is important for entrepreneurs to realize that risks and challenges are inevitable in every business. They should believe in themselves as many SMEs have grown into big companies in Kenya.  In any business venture it takes time, patience and dedication to achieve your long term growth and goals. As they say, "Rome was not built in a day" neither was Funkidz!"