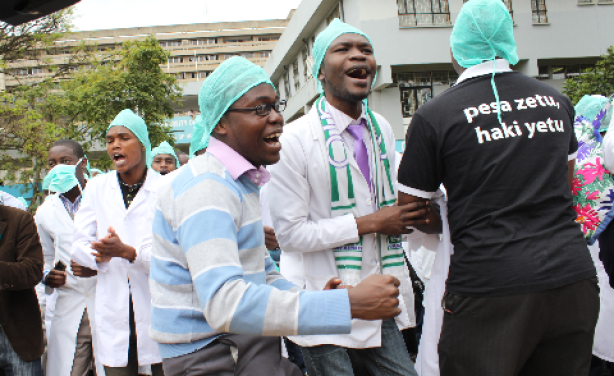 President Uhuru Kenyatta yesterday offered the striking doctors an enhanced pay during a meeting that was held in Mombasa.
In the proposal tabled to the doctors by the government, the entry point of doctors was enhanced from Job Group L to M, and salaries raised to Sh.196,000, from the current Sh.140,244.
The Government offered to raise the entry level grade in the public service for doctors to Job Group M from Job Group L.
This is higher than the normal entry level for other public servants and recognizes doctors' professional training. The Government offered medics Enhanced Emergency Call allowances that include a more than 100 per cent increment for Job Group L (Sh. 30,000 to Sh. 66,000).
At the same time, doctors in Job Group M to P will get Sh. 72,000 from Sh. 30,000 while those in Job Group Q will take home Sh. 80,000 from the current Sh. 30,000.
In addition, the Government also offered a new risk allowance at a flat rate of Sh. 10,000 a month. The sum total of the Government's offer means that the minimum gross salary for doctors will increase to Sh. 196,989 from the current Sh. 140,244 at full implementation at the current entry Job Group L.
The total impact on the Exchequer will be an additional expenditure of Sh. 4 billion annually – shared among the nation's 5,000 doctors.
On December 17, 2016 after a meeting with Labour CS Phyllis Kandie, the Government offered the highest paid doctor (Job Group T) between Sh. 462,000 and Sh. 572,000 while the lowest paid (intern, Job Group L) was offered between Sh. 185,000 and Sh. 196,000.
The same offer would see a medical officer (Job Group M) earn a minimum of Sh. 209,000 from Sh. 75,000. A doctor in Job Group N had been offered a minimum of Sh. 238,000, Job Group P between Sh. 284,000-Sh. 312,000, Job Group Q (Sh. 315,000-Sh. 348,000), Job Group R (Sh. 373,000-Sh. 421,000), and Job Group S (Sh. 421,000-Sh. 532,000).