1500cc Mercedes Benz: Last week, DT Dobie has expanded the Mercedes Benz C-Class range of luxury four door saloons for Kenya with the introduction of the C 180 which comes with 1500cc. The 1500 cc engine of the C 180, which combines fuel economy with strong performance gives prospective owners the benefit of a favourable price. This brings ownership of the best selling Mercedes saloon within the reach of many more motorists.
The latest C-Class range is a great step forward. The appearance has been changed and features modified bumpers, radiator grille and state of the art headlamps and taillights.
The new Mercedes Benz is selling at a cash price of Sh. 6.5 million. Alternatively, buyers can get the vehicle by making a cash deposit of Sh. 990,000 and paying the balance in six months.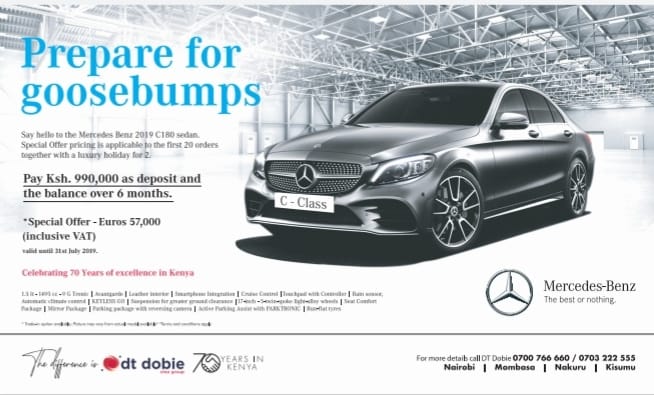 While the vehicle stands a great chance of eating a huge chunk of the 1500cc market which is dominated by Toyota and Nissan cars, the high price is set to put off many potential buyers.
Last week, the Nairobi Law Monthly reported the vehicle as having enhanced by the high level of equipment including Active Parking Assist backed by reversing cameras. The Active Break Assist system keeps the driver a safe distance from other vehicles.
"The comfort of drivers and passengers is enhanced by special air conditioning designed for a hot climate. The driver's seat has four way back support and the interior mirror and driver's exterior mirror dim automatically. Electrically folding exterior mirrors help to minimize the risk of damage in car parks.
Meet shy Kenyan billionaire building Sh. 200 billion industrial park
Among the safety features are a tyre pressure loss warning system and the C 180 is fitted with run- flat tyres.
Explaining the history of the C-Class, Ian Middleton, managing director of DT Dobie said, "The predecessor of the C-Class was the Mercedes Benz 190 which was introduced in 1982 and caused a sensation."