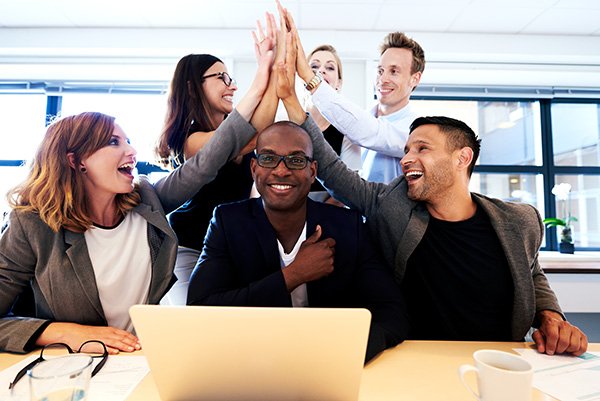 As an employer and business owner, how well do you appreciate your employees for the work well done? how do you motivate them to keep on working hard?
Being an employer, one of the most easiest ways to get your employees to work hard is by making them feel appreciated for any slight improvement they make. Ignoring them will easily lead to a decline of quality and quantity of their output.
Here are 5 ways you can use to show your employees some love for the work well done:
The simplest and most widely used method of showing employees gratitude is to throw them a party.
It's always nice to break up the workday for 30-60 minutes with some food, (non-alcoholic) drinks and – of course – some cake. As the boss it's not enough that you simply show up. Instead, prepare some remarks, conjure up some praise and hit on some of the high points and major accomplishments of late.
Sometimes showing appreciation is as simple as some food and a "job well done."
I'm not talking about a performance review.
Obviously talking to employees one-on-one is contingent on the size of the company, but getting the opportunity to have some face time with your employees is almost always a good thing. This meeting should be very informal and it gives you the chance to talk with your workers about how things are going, what they find favorable and be open to their new ideas.
Employees deserve a boss who truly listens and takes the time to hear them out.
A party and some cake is nice. But sometimes employees are looking for something a little more personal.
Sure we're in the technology age where there's an app for everything and a million ways to get in touch with your employees at the drop of a hat. And those are valuable time-/cost-savers that should be used regularly. But on a day designed specifically to show workers how much they are valued, all the technology in the world falls short of a handwritten note expressing appreciation for a job well done.
Employees who come to work and find a handwritten thank you note on their desk from the boss will likely be smiling all week.
Obviously giving everyone the day off is most likely an impossibility. But there is room for improvisation.
If you can't give the whole company a collective personal day, what about something a little more low-key to show your appreciation? For instance, you can surprise everyone with a half-day of work. Or let some employees come in to work an hour late, while allowing others to leave an hour early to beat rush hour traffic and get a head start on the weekend.
It really is the little things that make the biggest difference.
If you don't want to buy gift cards or pay to send workers out, then why not make improvements in the office?
Perhaps it's a new coffeemaker or a microwave. Or maybe a Foosball table or new TV in the break room. If we're talking about an athletic work crew, they might appreciate putting a basketball hoop up in the parking lot for lunchtime pick-up games. Whatever internal improvements can be made to the workplace, it won't go unappreciated by the people who will benefit from it on a daily basis.
Employees love perks.
Not only is this a chance for you to show employees gratitude, it's an opportunity to prove you really do know your own workers. Give out different perks based on their individual needs/interests such as discounted gym memberships, massages and spa gift certificates to name a few. Not only will employees be thankful, they'll also be impressed you cared enough to pay attention to who they are and what they value.
So as an employer, choose either of the above ways to at least show your employees some love!