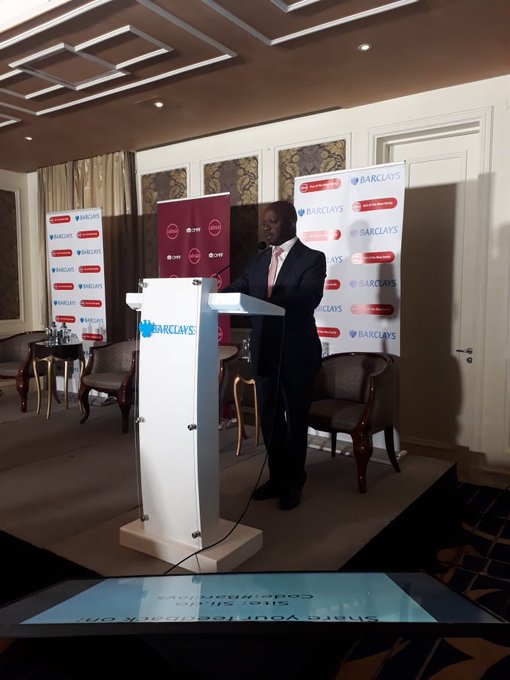 Kenya's financial market is now the third best in Africa. This is according to the ABSA Africa Financial Markets Index (AFMI).
The report, which was launched on Wednesday morning at the Kempinski Hotel ranked South Africa as the best financial market in the continent with a score of 93 per cent. It was followed by Botswana and Kenya with a joint score of 65 per cent.
"Kenya tops the continent in terms of openness in its exchange rate policy with the relaxation of capital controls. This has boosted its performance from 6th last year and improved the country's net portfolio flows to reserves ratio," said Barclays Bank of Kenya in a statement.
The report also noted that the country has improved in its ability to enforce financial agreements, clarity on property rights and compatibility with international standards.
Nonetheless, the report observed that there is a need for improvement in product diversity, relatively low pension assets per capita, and declining export market share.
Speaking during the launch, NSE CEO Geoffrey Odundo said that gaming in Kenya has become a real competitor to financial markets. "The 2006-08 IPO era unlocked retail investor capital, but there is much more return in the secondary market and they can unlock brick mortar and land value through REIT's now," he added.
While presenting the report, Absa Group Head of Markets, George Asante said that improvements in the market infrastructure and regulatory frameworks could boost the performance of countries in the middle of the index over coming years.
"The index provides a toolkit for countries seeking to strengthen their financial markets infrastructure," he said. "It tracks progress on financial market developments annually across a range of countries and indicators."
In the East African region, Uganda was ranked as the second-most progressive market after Kenya with a score of 50 per cent. This score was attributed to its stable performance with good foreign exchange access but low local investor capacity. It was followed by Rwanda, with a score of 49 per cent and Tanzania with a score of 43 per cent.
This report examined 20 African markets up from the 17 that were examined in the first edition of this financial markets survey. This report assesses progress and potential across market depth, access to foreign exchange, market transparency, tax and regulatory
environment, macroeconomic opportunity, and the legality and enforce-ability of standard
financial markets master agreements.