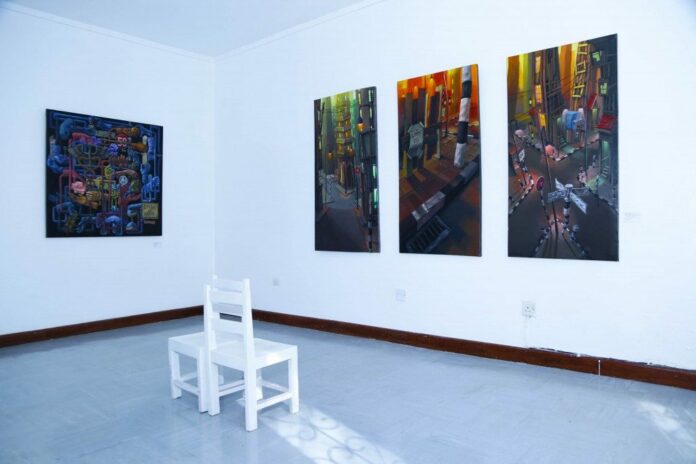 Art Galleries in Nairobi: Art has been part of the Nairobi scene since colonial times, and even now there are many remnants of artefacts that came from the settlers in some of our art museums. Here are the top 12 galleries in Nairobi that you should visit for contemporary and traditional art when you're in the city.
Matbronze Art Gallery and Foundry
This gallery
is located on the Karen Blixen property in the Karen suburb. It has unique offerings of animal bronzes, some as small as cufflinks, all the way up to life-sized pieces. You will find bronzes of mammals, insects, plants, accessories such as jewelry, and home items such as letter openers and candle holders.
Banana Hill Art Gallery
Banana Hill Art gallery is one of the most respected art galleries in the city and in the country at large. They offer sculptures and paintings from both upcoming and established artists. The space strives to bring artists and clients together, ensuring that talented artists have a place to showcase their talent and benefit from it.
The GoDown Arts Center
The GoDown Arts Center
has been a working space for some of Kenya's most respected artists, like Peterson Kamwathi. They hold exhibitions ranging from photographic exhibitions to paintings and sculptures. The space is well known for the
Kenya Burning
photographic exhibition that showed the world the extent of violence experienced by the country following the contested 2007 presidential elections.
Upepo Photography Gallery
Photography
is taking off in Kenya, and having a gallery to exhibit
photographic art
has opened up the field immensely. The gallery features original photographs as art, each with a limited edition of 50 prints. The photographs are developed in Kenya and the frames are made locally by handpicked craftspeople.
Shifteye Studios
Shifteye Studios
has set itself apart as a space that accommodates all art forms, including photography exhibitions, events, and even concerts. Not only do they provide the exhibition hall, they also supply creative solutions to clients who need to use the space.
Circle Art Agency
Circle Art Agency
is the home of contemporary art in East and Central Africa. East African art is breaking through into the global art scene, and the name Circle Art has become synonymous with this process. The art curated and exhibited by the gallery is mostly thought-provoking and demanding.
The Little Gallery
This gallery
is at the forefront of revolutionizing the local understanding and appreciation of art. It offers an online forum where artists can get exposure for their work. It aims to bring art to ordinary Kenyans, resulting in consumption of local art by local enthusiasts, but international buyers also get a chance to acquire the pieces. They deal with installations, paintings, and sculptures.
Red Hill Art Gallery
This is one of the premier galleries in Nairobi giving the region's finest modern and contemporary artist. The premises is large and airy accommodating quite a number of pieces. Art connoisseurs will find the collection interesting and eclectic.
One Off Contemporary Art Gallery
This gallery is home to some of the most respected homegrown contemporary artists in Kenya and around East Africa. It is a creative space that never lacks inspiration for both artists and audiences. Their displays are made up of sophisticated artwork that appeals to discerning art lovers and collectors.
The Art Space Gallery
This gallery takes art to the most unexpected spaces as well as the regular exhibition spaces. After starting out as a regular gallery in a bricks-and-mortar building, they have evolved into using the online space to bring Kenyan art to the world. They offer rare pieces through their
Collectors' Den
and sell other pieces via
the Vault
.
Nairobi Gallery
This Gallery used to be the old PC's building in 1913 where registration of births,marriages and deaths was undertaken. It is under the auspices of the National Museums of Kenya and now is used as a art exhibition space. The art pieces are mostly contemporary and are from local and international artists.