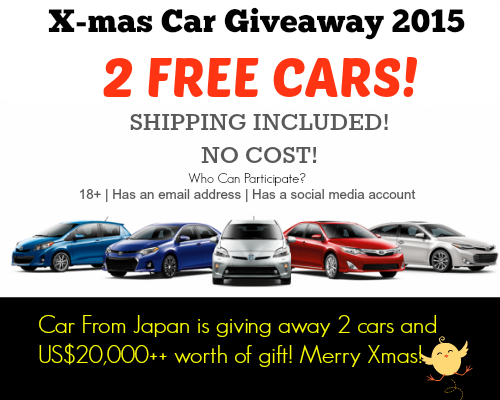 Have a better X-Mas with Car From Japan. Get a car, FREE!
Lucky winners will receive Free cars and other gifts worth of US$20,000++. You can get your free ticket today from Car From Japan website. You do not need to buy anything or pay anyone to participate in this contest. Apply here Now!
Car From Japan is a platform to trade Japanese used cars. Customers from all over the world can find and buy Japanese used cars, machinery & parts from us.
Car From Japan was founded with the ultimate goal of "Enriching Lives" by connecting people and facilitating trades. We believe that we can truly enrich lives by listening to customers, being constructive & continuously bringing changes in what we do.
Who Can Participate?
At least eighteen (18) years of age at the time of entry.
Has an email address (If you win, we will contact you via email)
Has a social media account (Facebook or Twitter or Google+)
Please Note that the winners are solely responsible for any country limitations or restrictions on the import or use of the vehicle.
Here is more
Prizes: 
Potential winners will be chosen by Car From Japan and contacted personally via email on December, 2016. Winners of 1st & 2nd prizes will be given 1 car each, delivered at their selected port. Winners of 3rd and 4th prizes will receive coupons (valid for 6 months); that can be used to buy any car from the available stocks. If the vehicle chosen has less value than the prize, winner can use the balance winning amount in his/ her next purchase (balance valid for 6 months). If the total invoiced price of the vehicle chosen is higher than the prize received, the winner needs to make the balance payment. Please note that we have all sorts of cars. We have cars, priced lower than USD 500 & also New Land Cruisers in our stock. So, most certainly you will be able to find the car you want. 
Details: 
Potential winners will be chosen and contacted via email by Car From Japan with instructions on how to choose & receive their prize. If the winner disagrees to receive the prize or does not co-operate or respond within 3 days after he/ she is contacted, such winner might be disqualified. In such case, another eligible entrant maybe selected by Car From Japan. 
Car From Japan will send emails calls to contact the winners. Car From Japan will not be responsible if the winner do not respond timely & gets disqualified as a result of failed contact attempts. 
Further details for receiving the prize will be provided to winners directly by Car From Japan. Winner will select the delivery port & Car From Japan will arrange the delivery of the prize at Car From Japan's sole discretion. The winner is solely responsible for all expenses after the car reaches the selected port (for example: applicable tax, clearing services, car insurance, licensing, registration, title and other fees associated with receiving the prize). Further details for receiving the prize will be provided to winners directly by Car From Japan. 
Submission Rules: 
One entry per person. False entries are not accepted. False names, addresses, and other falsified information will result in disqualifications. We request you to provide true information only, due to strict documentation requirements for the importing/exporting of vehicles. Please note that this contest is void where prohibited by law. 
This promotion is in no way sponsored, endorsed, administered by, or associated with Facebook or Twitter or Google+. You are providing your information to Sponsor, Car From Japan and its' partners, and not to Facebook or Twitter or Google+. The information you provide will be used mainly for contacting you and sponsor's marketing purposes.