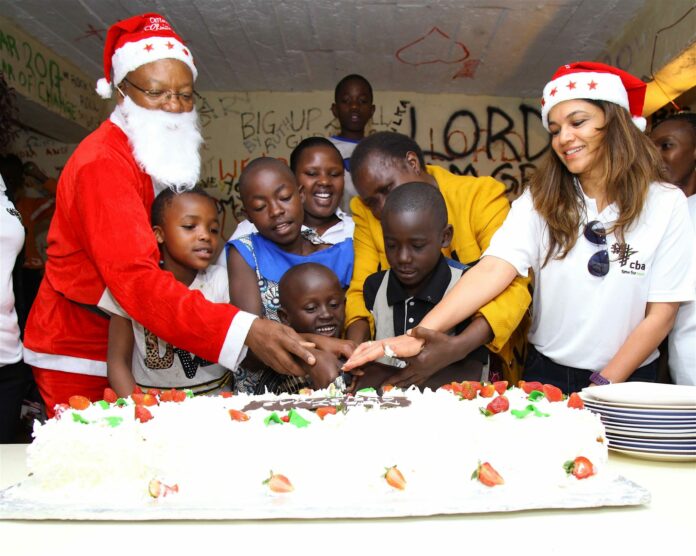 In the spirit of giving during the Christmas Festivities, Commercial Bank of Africa (CBA) staff members visited Good Samaritan children's home yesterday and donated Ksh. 6,005,670.
This was one of their initiative in which they have been offering financial and emotional support to the home which hosts over 600 children.
Dressed as Santa Claus, the bank's Group Chief Operating Officer (COO) Mr. Geoffrey Githinji gave a cheque to Mama Mercy the owner of Good Samaritan, urging other corporates to follow suit and assist the less fortunate in the society.
In attendance was H-art the Band who heartily performed as they brought joy and happiness to the kids wishing them a Merry Christmas and a happy new year as they enjoyed the gifts and foodstuffs which had been donated by the organization.
About CBA
Commercial Bank of Africa Ltd (CBA) is the largest privately owned bank in East Africa and has been operating for over 50 years. The was founded in Tanzania and branches were set up in Kenya and Uganda shortly thereafter.
CBA began as a subsidiary of Societe Financiere pour les pays D'Outre Mer (SFOM), a Swiss-based consortium bank. Other consortium members included Bank of America, Dresdnen Bank (now Commerzbank), Bank Bruxelles Lambert and Banque National de Paris.
In 1980, Bank of America bought out all of SFOM's partners and restructured the bank to mirror their own systems and disciplines before selling its majority shares to local investors.
The bank has since developed a reputation as the go-to provider for large corporations, institutions, diplomatic missions, NGOs and high net-worth private clients.
However in 2011, CBA began a drive towards innovation in the banking space, pushing its product team to pioneer new developments that cater to a wider local audience. To date CBA has been first to market with full digital banking channels, first with M-Pesa and M-shwari products, the first US dollar credit card in Kenya, the first 105% mortgage offering and the first foreign currency based mortgage provider.
As a world-class financial services provider, CBA offers clients a vast range of products and services that are both tailored to local needs and inspired by global innovation.