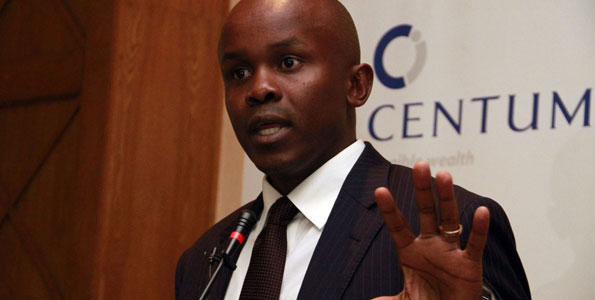 Barely a week after announcing a profit warning to its shareholders, Centum Investments has announced that it is set to book a gain of about Sh. 1.3 billion from the sale of its 73.4 per cent stake in asset manager GenAfrica.
This move to offload its stake will see the company get improved earnings in the half year that is set to end this coming September.
"The sale of GenAfrica is the pending transaction relating to the profit warning. The proceeds will be Sh2.3 billion and our cost is Sh. 1 billion, so we will have a gain of about Sh. 1.3 billion. This will be captured in the half year results," Centum CEO james Mworia says.
He further revealed that centum is in the process of offloading a number of its stakes in a bid to shore up its liquidity. "There will be sizeable exits from our mature investments. We will initially use proceeds from the sales to buy marketable securities in African countries. We are rejigging our portfolio to increase the portion of cash-generating assets," he says.
In March, the company had announced that it had reached a deal to sell off a controlling 73.35 per cent stake in asset manager GenAfrica to New York-based equity fund Kuramo Capital. "We have been in search for an ideal partner who could provide the synergies required for continued growth and expansion, while at the same time ensuring minimum disruption to the business and team," GenAfrica chief executive Charles Ogalo said in a statement.
"The sale by Centum of its stake in GenAfrica Asset Managers is in accordance with our vision to be Africa's foremost investment channel. Centum has, over the years, been able to attract reputable investors into Kenya and the region to invest in extraordinary enterprises," Centum CEO Mworia had said.
Nonetheless, the profit warning issued by the investment firm a week ago means the Nairobi Securities Exchange-listed firm is expected to report maximum net earnings of Sh. 6.2 billion for the year ended March compared to Sh. 8.3 billion the year before.