When Charles Njiru Mkombozi started working in the 1980s, every month he just had Sh300 to his name; money that he earned as a tailor.
More than three decades later, Mr Njiru, has become a multi-millionaire with the first-ever rice wagons worth Sh13.2 million that distribute about three tonnes of grain from his milling factory to various counties every day.
The serial entrepreneur who has tried his hand at many businesses – from sewing trousers for Sh2 a piece, matatu business, transporting sand to construction sites, growing tomatoes and French beans to starting a brewery – has now found success in the Mwea rice.
His flagship business, the 11-year-old Nice Rice Mill, has a milling capacity of 150 tonnes a day and churns out about 70 per cent of the over 40,000 tonnes of rice produced in Mwea every year.
The factory, which he estimates is valued at over Sh300 million, mills farmers' rice at Sh3 per kilogramme, besides providing storage facilities and market space for free. He also sells farmers' rice for an extra commission.
The factory, which sits on a three-acre piece of land, employs 80 permanent staff and close to 5,000 others indirectly through transport and retail businesses.
He assembled the 24 wagons at a total cost of Sh13.2 million, and uses them to distribute about three tonnes of rice from his milling factory to three counties every day.
"Mobile shops are the model of the future. I learnt this during visits to India, China and Dubai," the 52-year-old entrepreneur said during an interview at his milling factory.
"My dream is to have a wagon in every town in the country."
With the many travellers who make stopovers in Mwea town, known for its huge plantations under paddy, Charles Njiru Mkombozi saw an investment opportunity.
He has built a shopping mall, Nice Digital City, that hosts a supermarket, a 75-bed hotel, swimming pool, chemist and gardens, among other amenities.
Nice Rice Mills, Nice Charcoal, Nice Mineral Water, Nice Bakeries and Nice Jikos are some of the other ventures that make up the empire that 'Mkombozi', as Mr Njiru is commonly referred to, has built.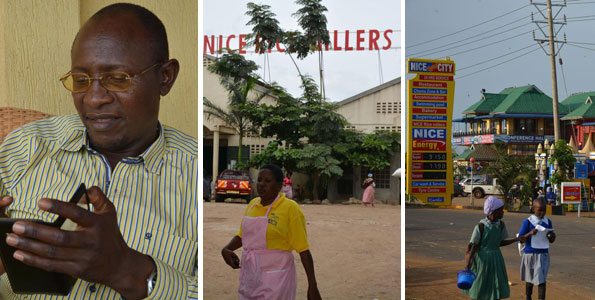 Mkombozi's journey to the top began in the 1980s when he was working as a tailor. He later switched employers and started earning based on work done – Sh2 for every trouser and Sh1 for a shirt.
This little pay saw him quit tailoring and go back to his Karaba home where he ventured into farming, growing tomatoes and French beans on a 10-acre farm.
His agri-business foray was not pleasant as rain failure hit him hard to the extent that, after four years, he only had Sh2,500 to show for his labour. He then tried selling second-hand clothes, topping up the little savings he had with a Sh500 loan from a friend. He quit this business after just two months.
Prostate Cancer in Kenya: Causes, symptoms, diagnosis and treatment
"I then saw an opportunity in agrochemicals. I bought a carton of several products and started hawking them in Mwea town," says Charles Njiru Mkombozi.
The agrochemical business initially took off, earning him Sh300,000 in sales in just six months, but a dip in profits due to stiff competition saw him ditch the business after three years.
Mr Njiru has also tried his hand at the matatu business, transportation of sand and construction material, and brewing. But he quit for different reasons ranging from dishonesty to high operating costs.
"My life in business has been so hostile, but I believe that in every adversity, there is a way out," said Mr Njiru.
His entry into the rice milling business happened by chance and was borne out of the failure of one of his many ventures.
After constructing a brewery, he failed to secure an operating licence and transformed the facility into a maize milling plant at a cost of Sh3 million. A prolonged drought rendered the milling business a non-starter. One crop, rice, was however flourishing in the area to the extent millers had become overwhelmed by supply. "Farmers were waiting for three months to have their rice milled at government-owned mills," said Mr Njiru. "Rice farmers started flocking my maize mill looking for storage and eventually I started milling for them."
Due to the many travellers stopping in Mwea to buy rice from his factory and other retailers, he saw an opportunity to build a mall at a cost of about Sh1 billion.
The mall sits on around eight acres of land and is now a major attraction along the busy highway.
"I own and operate all the facilities in the mall except the chemist which I have rented out," Mr Njiru said. "Visitors can use the gardens for free as long as they commit to spend on drinks and food from the hotel."
Mr Njiru said he runs his expansive business empire "like Asians" with his wife and three children in charge of different segments.
His daughter is in charge of the more than 300 workers in his different business while his two sons operate the hotel, supermarket and petrol station.
Despite several blows that saw many businesses collapse, Mr Njiru has managed to reinvent himself each time, eventually settling on one that has worked really well for him.