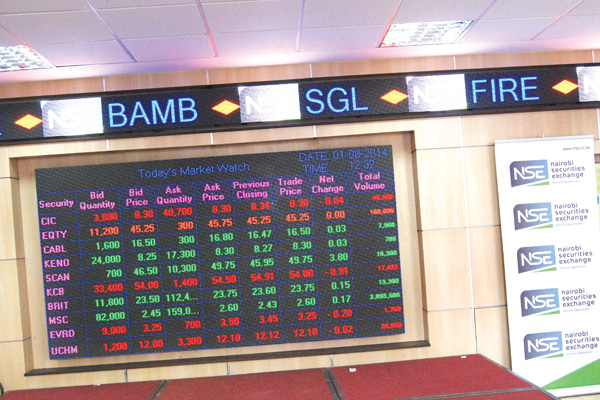 The government failed in its bid to raise Sh. 16 billion in a treasury bill offer, managing to garner Sh. 2.2 billion.
This betrayed investor apathy towards investing in the local Nairobi Securities Exchange that has been ravaged by a ruthless bear for close to three years now.
According to a market note from Genghis Capital, though, the government failed in its bid following the December festivities a investors took a Christmas and New Year break.
"The market is quiet in the last days before year end as most investors are out of the market. The (Sh. 6 billion) 182 day T-Bill came off to 10.47 per cent from 10.49 per cent last week on under-subscription of 83 per cent, with only Sh. 2 billion in bids. The 364-day auction was cancelled with the regulator not giving reasons as to the cancellation," said Genghis.
In the previous week's auction, though, the government had managed to raise its entire target of Sh.16 billion, after receiving heavy bids on the six-month paper to the tune of Sh.15.8 billion.
Treasury bill auctions can be cancelled when investors fail to bid or when they demand yields that the government considers too high. Going by the performance of the 91 and 182-day offers, whose subscription levels stood at 34 and 17 per cent respectively, the decision to forego the one-year offer is likely to have arisen out of a lack of bids.
Investors also shied away from the equities market last week, with turnover falling below the previous week's level and the average for the month of December in general.