Just 21 years young, Alexandra Andresen is one of the world's youngest billionaires. Heir to a family fortune built on tobacco, she debuts among the World's Billionaires thanks to her stake in investment company Ferd that FORBES values at $1.2 billion.
Company's history
The company Ferd, which means "journey" in Norwegian, has roots dating back to 1849, when Alexandra and Katharina's great-great-great grandfather Johan Henrik Andresen bought J.L. Tiedemanns tobacco factory, starting what was to be the market leading cigarette maker in Norway for over 150 years.
The family remained in the tobacco industry until 2005, when it sold its share to Skandinavisk Tobakskompagni for almost $500 million. Today Ferd is a holding company with diverse interests spanning private equity holdings, real estate, security investments and a hedge fund.
Making her wealth.
Miss Andresen accumulated her personal fortune after her father Johan F. Andresen transferred his stake in Norway's biggest company, Ferd Holdings, to his daughters in 2007. Her family had made a fortune in the tobacco industry and her great, great, great grandfather founded Norway's biggest cigarette producer. Even though she has inherited a huge chunk of her father's company,  her father still runs Ferd . Today Johan H. Andersen , the sisters' father and chairman of the board, member of the fifth generation, owns 15.2% but still has 70 percent of the company votes.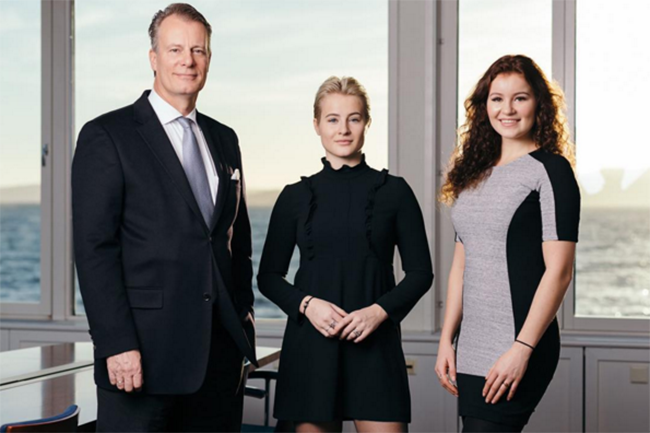 In 2006 her father gave 80 per cent of his shares in the company Ferd Holdings to Miss Andresen and her sister  Katharina  who is one year older and equally wealthy. The sisters each own 42.2 percent of the private company and have for a while. Despite their paper wealth, they have been able to live in relative normalness in Norway.
Despite being a private company, with no outside investors, Ferd semi-annually publishes details on their investment on their website including its equity value of more than $3 billion.