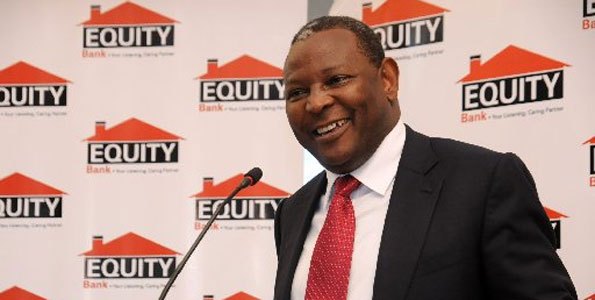 Equity Group chief executive officer Dr. James Mwangi earned a basic salary of Sh. 60.4 million in the 2017 full year. This has been revealed following the disclosing of Equity Bank's pay for to its top executives which also laid bare James Mwangi's salary.
It follows a similar disclosure by rival KCB of its directors' remuneration under the newly introduced reporting rules.
Although Mr Mwangi was not paid a bonus for 2017, he earned Sh. 3.7 million in unspecified allowances, raising his total pay to Sh. 60.4 million.
James Mwangi's Salary falls shy of the Sh. 65 million that the KCB CEO Joshua Oigara earned in basic salary and allowances.
Equity Bank further said that its executive directors, including Mr Mwangi, are paid a salary, pension and other unspecified benefits. "Executive directors are eligible to participate in the group's bonus scheme, which is anchored on achievement of key business performance indicators, but are not entitled to earn fees or sitting allowances," the bank says.
The revelation reiterates the two banks' position of paying their chief executives top salaries. According to the Business Daily, below is how Equity Bank paid its board of directors in the 2017 financial year:
Equity board's 2017 disclosed pay*
| Director | (Sh mn) |
| --- | --- |
| James Mwangi | 60.4 |
| John Staley | 19.5 |
| Mary Wamae | 15.0 |
| Peter Munga | 7.6 |
| Deepak Malik | 1.9 |
| David Ansell | 3.9 |
| Evelyn Rutagwenda | 9.5 |
| Vijay Gidoomal | 0.9 |
| Isaac Macharia | 2.8 |
| Dennis Aluanga | 2.9 |
| Adil Popat | 0.5 |
| Hellen Gichohi | 5.3 |