Kenya's rapid GDP growth over recent years has been supported by factors such as a strong government, the private sector and foreign investment. The mobile industry however, has been a key contributing factor to the country's GDP growth. 43.3M of the total population has access to the internet in Kenya, but only 13M are identified as active internet users by Google.
With more and more people getting mobile phones and access to the internet, social media has emerged as a force to be reckoned with in Kenya. There are currently 8.20M people on all social media platforms, the most popular being WhatsApp (74%), Facebook (70%) & Twitter (50%).
https://www.jumia.co.ke/mobile-report/
Smartphones are becoming more affordable to Kenyans, contributing to growth in mobile subscriptions. Jumia, Kenya's leading ecommerce platform, has reported a continuous decrease in average price of smartphone over the last three years. In 2014, it cost about 186 USD to purchase a smartphone, which reduced to 97 USD in 2016 and 86 USD in 2018. Different mobile brands are capitalizing on this by availing affordable gadgets to the market thereby driving smartphone adoption.
Competition amongst brands has stiffened over the years, with Chinese brands dominating both Kenyan and African markets. Among the top mobile brands on Jumia in 2018, Infinix dominated the sales (for the past three years). Xiaomi and Huawei were seen as strong new entrants, gaining 5% and 9% market share on Jumia respectively, within 2018.
Kenyan smartphone consumers continue to focus on specifications even with falling prices. People purchase phones based on camera quality, storage space and screen size, forcing brands to offer the best of each of these specifications still at low prices thus creating value for consumers.
Jumia in partnership with smartphone companies like, Samsung, Huawei and Xiaomi is gearing towards the official kick-off of Jumia's mobile week 2019, which will see consumers get the opportunity to shop top brands at crazily reduced prices. Jumia mobile week will run from 22nd March to 31st March 2019 right on their platform, offering the greatest, almost too good to be true smartphone deals  and smartphone accessories to shoppers.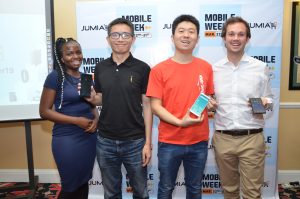 Top Deals on Jumia Mobile Mobile Week 2019
Mobile money continues to grow supported by increasing adoption of mobile payments. In 2018, 70% of all transactions made on Jumia were done through mobile money and 30% through other payment methods including cash on delivery and other payments.