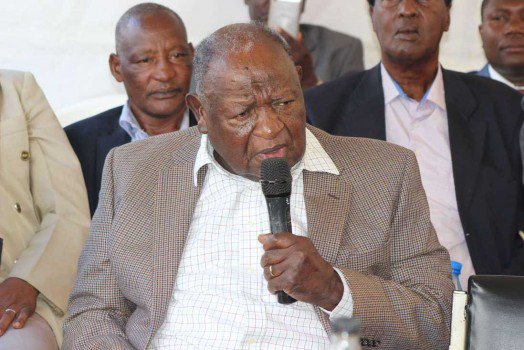 Kenneth Matiba Dies in Nairobi: Reports reaching Bizna Kenya say that veteran politician and businessman Kenneth Matiba is dead.
He died while undergoing treatment at the Karen Hospital in Nairobi. He died at the age of 85 years.
Kenneth Matiba has been in bad health since the early 1990s. He was a renowned billionaire and contested for the presidency in Kenya's first multi-party elections in 1992 under the Ford Asili party.
He came second to former president Daniel Arap Moi.
Before his death Mr. Matiba was paid Sh. 945 million by the state after a calculation error was noted in his torture case.
He was tortured to near death by operatives of Mr. Moi's government as he fought for multiparty democracy together with opposition leader Raila Odinga.
In particular, Matiba was jailed by the Moi regime along with Charles Rubia in the height of the fight for multi-party democracy in 1991.
Supreme Court judge Isaac Lenaola handed the amount to Matiba for the torture he endured, as well as in compensation for his business losses.
Judge Lenaola, who took the case while still at the High Court, said Matiba suffered a serious stroke on May 26, 1991 while in detention but remained untreated for a whole week. As a result of the stroke, the judge said that Matiba lost his business acumen and energy upon his release from detention leading to the collapse of most of his businesses.
"Real justice can be expensive and nothing in compensation can return Kenneth Stanley Jindo Matiba to the sprightly and fit man that he was before his detention," Justice Lenaola said in his rulling.
"[His incarceration and torture] so greatly affected the business acumen, attention, focus, energy guidance and leadership that he was giving his companies," Lenaola said.
More to follow…