A few kilometres from Kitengela town, there is a mabati estate popularly known as Kwa Uhuru estate.
The estate us said to be owned by tge Kenyatta family, and according to a report that appeared in the Standard newspaper, it was named after President Uhuru way back before he joined politics.
"The two-decades-old estate sits on a portion of undeveloped land belonging to Mzee Jomo Kenyatta's family. Income sourced from these houses goes to the First Family, but is collected through a caretaker and an agent acting for the First Family. Rent is deposited to an agent account then channelled to President's family. Rent is paid strictly before date 10 of every month failure to which tenants are ejected," says the Standard report.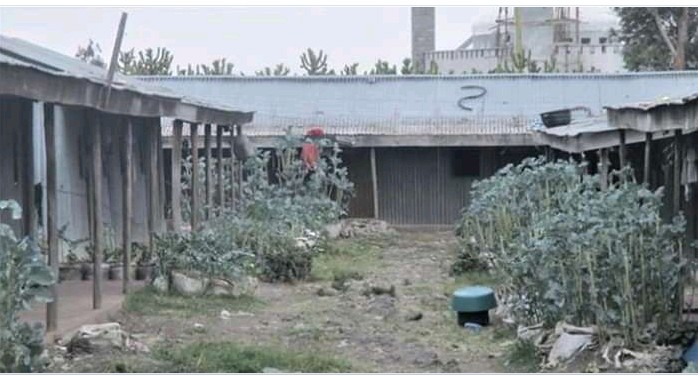 The report further says that the estate with a front perimeter wall has 200 units, the monthly rent being Sh. 1, 200 and the slightly larger houses go for Sh. 1, 450. "This means on average, the Kenyattas net about Sh. 250, 000 every month and Sh. 3 million per year. Majority of tenants work at a nearby Exotic Penina Fields Group Ltd, a carnation farm. The rest are employed by Maasai Flowers Limited and neighbouring construction sites and farms," says the report.
The report further adds as follows:
The houses are built in blocks with front porches and an allowance for front yard veggie gardens. However, there is nothing much to write home about the interior, which accommodates a small bed, a table, two seats and cooking utensils. Each units houses two to four tenants, meaning the estate has over 400 people.
Kwa Uhuru has 24-hour security guards at the entrance provided by a private company. Water from a borehole is shared from two taps.
"Though there is that sense of pride and security because of who owns the estate, you can't leave your house open. But unlike other shanties we are far better and organised," said a resident identified only as Ondieki. Ondieki has lived at Kwa Uhuru for eight years. He says if a tenant moves out – which is rare – another comes in immediately.
The shanty estate was initially intended to house workers of Kitengela Honey Products Farm, a Kenyatta family venture that was started some years back but failed to take off as expected. The family decided to rent it to workers working in nearby farms.
Estates near Kwa Uhuru are over a kilometre away. It just now that infrastructures are coming up nearby, including a Mosque opposite the estate.
"After work our men prefer to hang out at the entrance chatting and gazing at vehicles plying the Namanga road," a resident said.
The nearby centre residents hang out or do shopping is Kimalat, two kilometres away if not Kitengela town a Sh. 50 fare distance.
Besides the Kenyattas, other top political families also own a slice of Kitengela.
Uhuru's older brother late Muigai Kenyatta sold the land that Muigai estate in Kitengela sits on, nearby their mabati estate