Magistrate Pauline Maisy Omungala: Nyeri Senior Principal Magistrate Pauline Maisy Omungala on Monday appeared before Mavoko magistrate Elvis Michieka over the brutal murder of her husband Robert Chesang', in Machakos two weeks ago.
The murder case adds to a list of rising cases of murder and brutality among married couples.
Ms. Omungala was presented to the court alongside three police officers and a driver who were identified as Sergeant Richard Lorunyei Moru of Riruta Police Station, Lawrence Lempesi, a retired senior police officer in Baragoi, Samburu, and Peter Mbithi who is attached to the Mutuine post.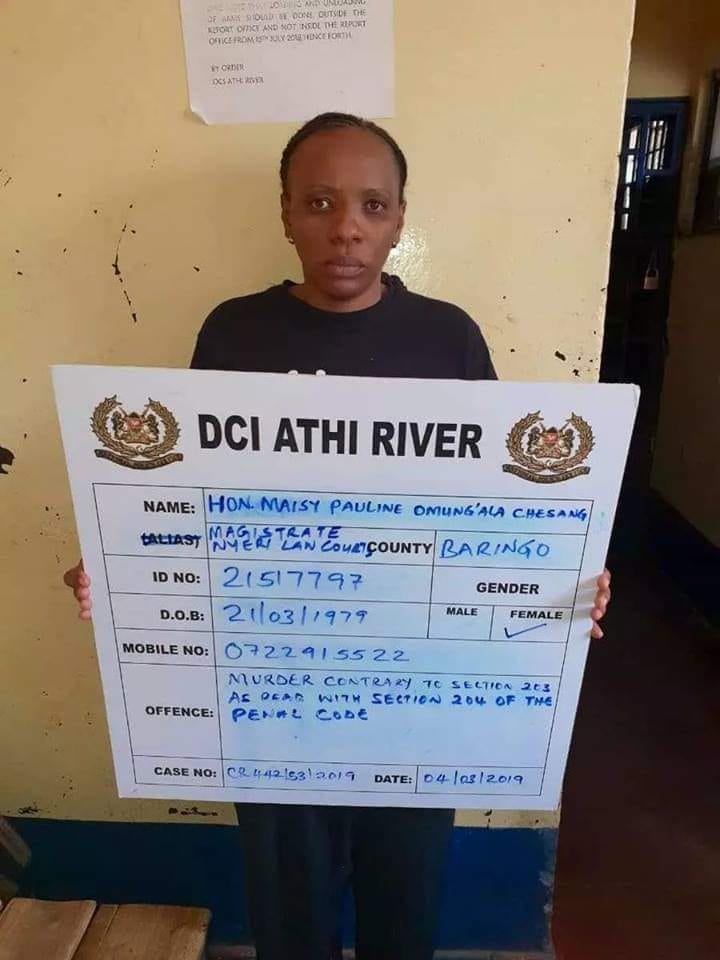 According to the police, Ms. Omungala's husband was shot dead in his house on February 17.
Apparently, two armed assailants went to Moke Gardens Estate in Lukenya, Machakos County, where Chesang' lived. At the estate's entrance gate, they tied up the watchman, the proceeded to Chesang's house number 10057.
One of the assailants knocked on the door. Mr. Chesang did not respond immediately. instead, he peeped through the window in an attempt to see who was knocking. Immediately the two assailants saw him, they opened gun fire and killed him on the spot.According to the police, they did not enter the house or attempt to carry the body out. Also, nothing was stolen from the house.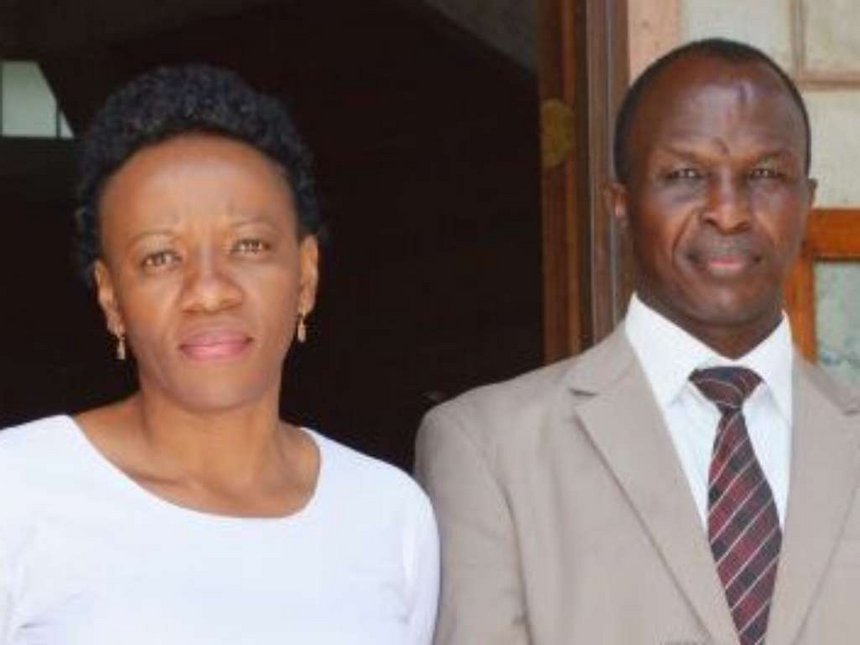 When police went on the scene, they found Chesang's body lying lifeless close to the window, and recovered 7 spent cartridges of 7.62mm special ammunition.
In the following days, a post-mortem was conducted, and the results indicated that Chesang had died from excessive bleeding that was caused by the gunshots. He was 45-years-old. The report also says that the assailants had been visiting the estate using a Mitsubishi with Registration Number KAJ 265F. They had visited the estate three times before they committed the murder on February 17.
Police suspect that Ms. Omungala had paid off the assailants and instructed them to kill her husband. She is suspected to have paid the three officers to kill her husband over what police believe were domestic differences.
Reports says that ms. Omungala and her husband Chesang' had numerous incidents of Domestic violence which had previously been reported at Machakos and Mavoko Law Courts.
Apparently, Ms. Omungala and Chesang' had been fighting for property. However, unverified reports suggest that Ms. Omungala felt that being a magistrate, she was being embarrassed by the cases that had gone to the courts.
In case number 47 of 2018 Chesang' had alleged that he had been forced to move out of his house because his wife was violent and was using police officers to harass and intimidate him.
Subsequently he requested the courts grant him unconditional access to his home. He claimed the locks to the home had been changed. The house was also under police guard.
Chesang' also said Omungala had transferred his two children to a new school and denied him access to them.
"From August 17 to date, I've lost all that I've acquired progressively since I started married life due to illegal actions of the respondents. I have technically lost the house, the cars and all my earthly belongings," Chesang' said in an affidavit.
He also asked the court to allow him access to his two vehicles, a Lexus and Premio, which he claimed were being used by police officers.