The fight in Raila's home: This was the big story that was to be headlined by The Standard newspaper on Monday. The story, though did not run. Apparently, says reports, former prime minister Raila Odinga found out about the story and engineered an effort that resulted in the newspaper being recalled and the story replaced.
That, though, did not stop the story from leaking. According to the Business Today the story revealed a vicious battle for millions that is going on between Raila's wife, Ida Odinga and the late Fidel Odinga's wife.
The story in the Business Today says that Ida goes to the extent of accusing Lwam Bekele of "masterminding the death of his son. In statements to detectives captured in court documents, Ida says Lwam was behind the mysterious death of Fidel, their firstborn, in January 2015."
Here is the version of the story (that might also give a sneak preview on the Raila net worth) as it appeared in the Business Today:
Lwam, for her part, says Ida has been making "false and unkind" remarks about her in connection to the sudden death of her husband. The case will be mentioned on 16th October 2019.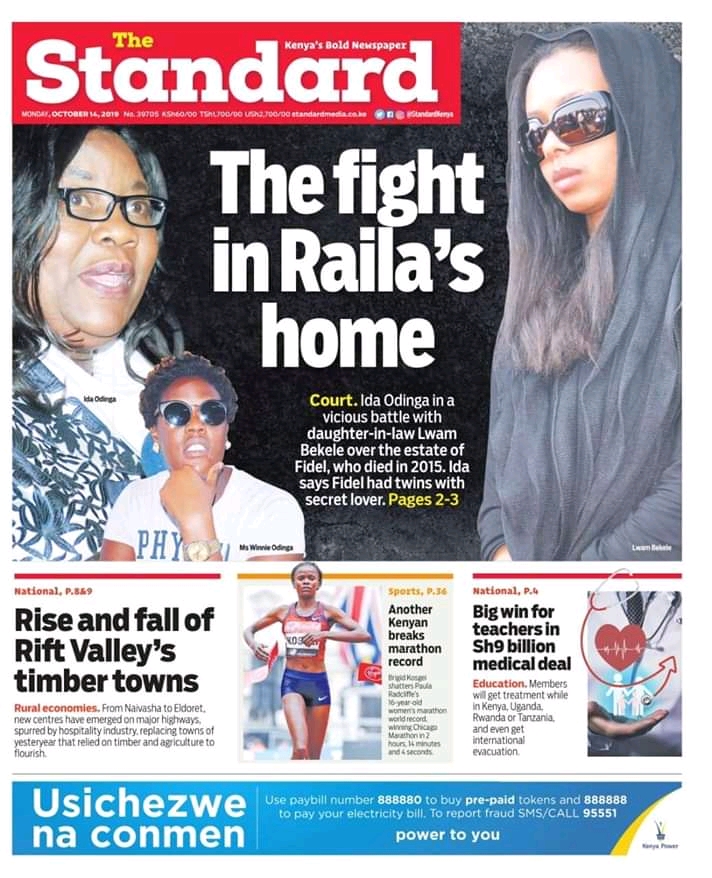 Raila family became uncomfortable when Lwam was granted the letter of administration of the Fidel Castro Odhiambo Odinga's estate, which is believed to be worth billions.
This prompted Ida and her daughter, Winnie, to file an objection to that, arguing that Lwam is a suspect in the death. They claim she vanished soon after Fidel was buried and investigations into the death were launched, then cut off communications. Ida Odinga and her last born daughter, Winnie. The two have filed a case against the widow of Fidel Odinga.
The death of Fidel remains a mystery as it was a major blow to Raila's family as he was seen as heir-apparent of his father's political dynasty as well as business empire. His body was discovered in his Karen house on a Sunday morning after spending Saturday afternoon and evening with friends before being driven home by a taxi.
At around 6.30am, Lwam said she went to check on her husband only to discover his lifeless body. She then called her mother-in-law, Ida. "It remains unclear why she hastily ran away and kept off the family," Ida and Winnie say in their submission.
Fidel and Lwam lived in Tipuana Park in Karen Nairobi. Family records show Fidel had 10 properties and seven bank accounts. The properties include the Tipuana Park house, two parcels of land in Kisumu and one in Kajiado, shares in two companies – Axum Investments Ltd and Ambesa Investments Ltd.
It has also emerged that Fidel held one account each at Diamond Trust Bank, Stanchart, Stanbic, ABC Bank and three accounts at Gulf Bank. Fidel also owned four cars – two Range Rovers, a Nissan Sunny, and a Mercedes Benz.
To strengthen her case seeking to have the court to wrestle Fidel's estate from Lwam, Mama Ida reveals that Fidel had twins from a different relationship. Birth documents show the twins were born six months after Fidel's death but do not indicate the father of the minors.
While the certificates indicate that the minors were born on July 1, 2015, Ida claims the late Fidel supported the minors while he was still alive. Lwam, who claims the Raila family has not been supporting her son's education, says if it's proved the two were sired by Fidel, she would include them as beneficiaries." Raila Net Worth.