Renault Assembling Plant in Kenya: Renault Trucks has opened a local assembly plant in Thika as it keeps expanding its footprint in Kenya.
The move follows the establishment of a long-term partnership with the local exclusive importer CMC Motors and unveiling of their new C and K ranges in Mombasa and Nairobi.
The plant, which was commissioned by Industrialization Principal Secretary  Francis Owino in the presence of Renault Trucks President Bruno Blin and Al-Futtain group senior managing director Colin Cordry, will see the company and CMC Motors create over 200 new jobs with additional opportunities set to be generated across the value chain.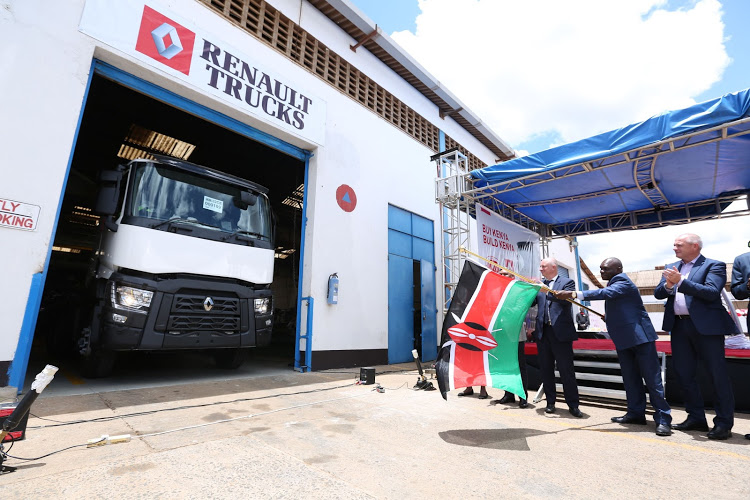 In alignment with the 2030 Kenya industrialization vision, Renault Trucks vehicles count with a guaranteed French origin, but are assembled locally, the firm said yesterday.
"We are more than pleased to be here and make this possible. We are still guaranteeing the best products and services offer, while contributing to employment and industrialization of the country,"said  Blin.
"This comes in line with our arrival in the region, taking Kenya as our development hub to achieve our long-term vision, alongside CMC Motors, our exclusive partner in the country," Blin added.
Since 1974, CMC Motors has established a partnership with Kenya Vehicle Manufacturers (KVM).
With the assembly of Renault Trucks, the objective is to strengthen its position as a key player of the automotive industry in East Africa, fully aligned with the country's economic development agenda.
PS Owino said the government is developing the National Automotive Policy which will serve to give direction and impetus for the development of a vibrant automotive industry.
"The local automotive industry in Kenya is characterized  by dominance of used imported (second hand) vehicles, automotive assembling oriented towards passenger and commercial vehicles, lack of local full manufacture, and reliance on KD (Knocked Down) kits due to minimal local parts production," Owino said.
"On this note, I urge this company to consider sourcing materials and parts for their assembly from local manufacturing entities such as the Numerical Machining Complex (NMC)and SMEs involved in the production of these parts," the PS added.
Meanwhile, CMC Motors has committed to the country's economic strategy by promoting local production with added value, job creation and competence development.
A regional training center(by Renault) is now operating in Nairobi, allowing Kenya to become a regional Hub for South East Africa region to support competence development.
The center is part of the Al Futtaim Academy and has already held some technical trainings organized by the French manufacturer.
Renault Trucks has a presence over 100 countries offering commercial vehicle users a variety of innovative services and vehicles (from 2.8 to 120 tonnes) adapted to a wide range of transport activities ranging from distribution, construction, heavy construction, long distance.
As part of the AB Volvo Group, Renault Trucks are unrivaled within the European Truck Segment offering sturdy and reliable low fuel consumption vehicles, personalized maintenance and spare parts availability, enabling customers to enjoy greater productivity and control operating costs.
In Africa, Renault Trucks ever growing client trust has led the brand to the first place in many African countries such as Tunisia, Algeria, Ivory Coast, Senegal or Guinea.
CMC Motors Group Ltd is owned by CMC Holdings Ltd and was acquired by the Al-Futtaim Group in 2014. Other trading subsidiaries owned by CMC Holdings Ltd include Cooper Motor Corporation (Uganda) Ltd,Hughes Motors (Tanzania) Ltd and Kenya Vehicle Manufacturers Ltd (33% Shareholding).