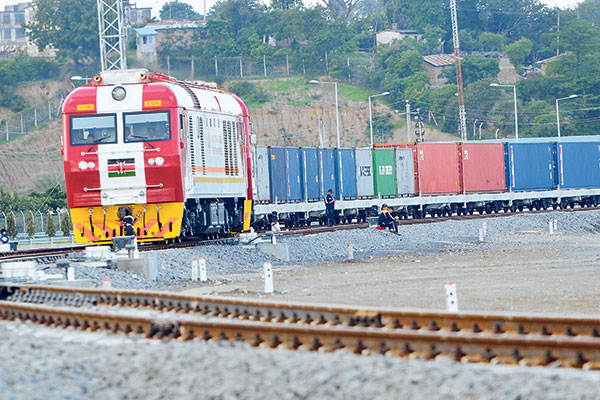 SGR Cargo Charges: The construction of the Standard Gauge Railway was supposed to ease the cost of transporting goods. This, though, is not the case. According to manufacturers, it is now 60 per cent more costly to transport goods via the SGR than by road.
According to Kenya Association of Manufacturers CEO Phyllis Wakiaga said the cost is likely to have gone up by about 70 per cent and 93 per cent for the 20 feet and 40 feet container respectively.
This is echoed by a new study by the Overseas Development Institute titled 'How to grow manufacturing and create jobs in a digital economy: 10 policy priorities for Kenya.
The report further says that an increase in delays for clearance of containers has also led to the high costs. "While this was expected to reduce the cost by at least 30 per cent, the SGR has not been very effective in improving logistical efficiency due to lack of harmonization and streamlining in procedures," the study noted.
Currently, it costs between Sh. 50,000 and Sh. 100,000 to transport a 20 feet and 40 feet container from the port for Mombasa to Nairobi by road. This is at least 60 per cent higher than in the US and Europe according to Trade Mark East Africa.
The high costs have seen manufacturers like New Wide Garments in Athi River EPZ, use its importing containers as exporting containers. However, it still reports container delays and increasing inflexibility in time as a result of the SGR transport system.
Speaking in a panel discussion during the launch of the report, Wakiaga called on the relevant state agencies to reduce clearance agents at the port. She said that there are at least 45 clearing agents at the port, who should be reduced to ensure reduction of clearance time for consignments of raw materials.
According to Shippers Council of Eastern Africa, importers have reported losses in hundreds of millions in demurrage charges as a result of delays to transport empty containers back to Mombasa in the last 10 months.