Barclays Bank of Kenya has launched a new mobile banking app that is set to ease how Kenyans bank and access loans. The new app dubbed Timiza heralds the bank's expansion into virtual banking.
The new mobile app comes with an assortment of banking solutions that will enable Kenyans to bank and access banking solutions from the comfort of their mobile devices.
For a start, it will now be easy for Kenyans to access micro loans. According to Barclays, the new app will allow customers to access small loans directly through their phones.
Unlike other banking apps in Kenya that only restrict lending to a specific bank's customers, the new app by Barclays Kenya breaks this limitation by allowing non-customers to also access loans.
The new app will offer loans of up to Sh. 150,000 based on your M-Pesa history. The higher your transaction rate, the higher the loan limit you receive. These loans will be payable within 30 days.
Although, the amount of loan you get will depend on your M-Pesa history, it will be good that your current credit history is well off. This means that if you have been a good borrower without currently defaulted loans, getting a loan will now be at your fingertips.
To access the new service, you will be required to dial *848#, accept the terms and conditions and proceed to borrow depending on your needs.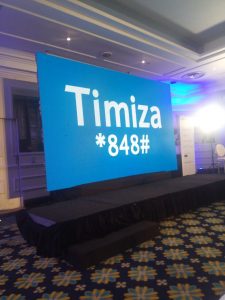 "By understanding our customers needs, we can efficiently work towards ensuring that all their financial needs are met," the bank says in a statement.
The launching of the new app has been informed by the growing need for Kenyans to access and carry out their banking needs via their mobile channels. "Statistics show that more than 50% of the people want to do banking on mobile," said Barclays Bank CEO Jeremy Awori.
It is not only borrowing that the new app is offering. Kenyans will also be able to carry out multiple banking services on the app, including saving for targeted goals.