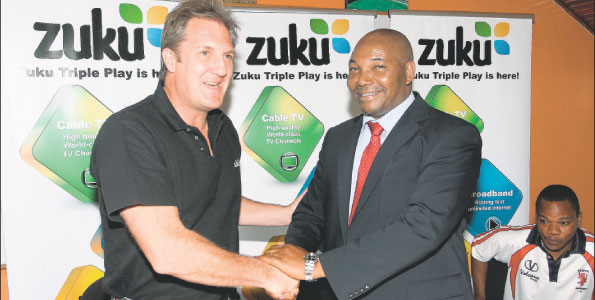 By Bizna Brand Analyst
I can't remember the number of times I have contacted Zuku customer care over the past two weeks alone. It seems like it's been on a daily. I can't help but wonder, what is currently wrong with Zuku. What's even worse is that it takes at least 30 minutes before you get a response. Like you have all the time in the world to just sit, sip on your tea and wait. Like the lack of internet isn't such a big deal and you are okay even if it finally gets resolved when you have grown white hair.
Personally, the first few months after installation were good (fast speeds and no downtime at all). I couldn't help but wonder what took me so long to sign up for this amazing service. But just like a newly married couple, the joys were short lived. Of late it's just been problem after problem.
If today there's no internet connection, tomorrow there will be some specific sites not loading and the next day there will be extremely slow speeds. When I initially signed up for their 15 MB/s package, my speed tests usually showed speeds of excess e.g 15.5 Mb/s but nowadays it's always lower than 13 MB/s. Where is my 2 MB/s?
Most of the time, streaming is always difficult and when I complain to customer care, I am  told to upgrade to a bigger package. What? Logically 15 Mb/s should be enough speed to do anything on the internet. I used to work in an office with about 20 guys and our connection was 6 MB/s from Jamii Telecom. It was always fast and those of us who love movies would even do downloads on it without causing any inconvenience to fellow employees. But with Zuku,I am using 15 MB/s alone yet I face problem after problem.
To be clear, such problems aren't specific to me. You can go to Zuku's twitter handles right now and see how numerous the complaints are. Funny thing is that the company's social media managers are always glad to give copy and paste responses to all complainants. The most common one being "We are experiencing service interruption on your are…we are working on fixing."
There are so many times when Zuku customers are forced to buy internet bundles from their mobile service providers because the internet they paid for is down. I personally chose Zuku in order to avoid the high cost of bundles. But of late it seems this isn't helping.
It would be great if we had serious alternatives to Zuku when it comes to home internet. Zuku's monopoly is hurting customers. Numerous people have complained of being denied installation yet their neighbors have Zuku. It's a mystery why that is so because generally, Wananchi Group can only install Zuku for you if there is a cable passing near where you live.
I do hope that service will improve. But what I wish for most is for the emergence of a serious competitor that we can turn to.I'd love to divorce Zuku right now but the only thing that's holding me back is the lack of a replacement.