Bidco Industrial Park: Bidco Africa has opened an ultra-modern industrial facility in Ruiru, Kiambu.
The facility, dubbed Bidco Industrial Park was launched by president Uhuru Kenyatta on Thursday. The ultra-modern complex developed by Bidco Africa, East Africa's largest Fast Moving Consumer Goods (FMCG) manufacturer, will host the company's beverage and food processing factory.
"Expansion of the manufacturing holds key to realization of growth,especially for the youth,"said President Kenyatta.
How Bidco became one of Africa's largest producers of consumer goods
The park which sits on part of an 80-acre parcel of industrial land within Tatu City comprises of a 550,000 litres per day effluent treatment plant, a 90,000 litres per hour water filtration facility and  a 66 kilovolts power station to supply 7.5 megawatts of electricity to the park.
Bidco Africa Chairman Vimal Shah said the Sh20 billion ultra-modern complex is part of the company's expansion plans and will host its beverage and food processing factory.
He added that the industrial park shall be a new business and shall not relocate the company's old industry. "These are all new factories and machinery. We expect this new park to add to our total turnover and total product range.
Our basket to the market shall therefore become bigger, which means there shall be significant employment creation as well as benefit Kenyans in general," said Mr. Shah.  During the launch, Mr. Shah revealed that Bidco is planning to put up another factory in Nakuru County to produce animal feeds.
"As a mark of faith in Kenya' economy, Bidco has also set foot in the food and beverages product categories by producing high quality noodles, hjuices, water, carbonated soft drinks, and energy drinks. This is part of our agenda to Grab, grow, and Sustain Number 1 market share in Africa by 2030," said Mr. Shah.
During the launch, opposition leader, former Prime Minister Raila Odinga offered an apology to Bidco for having spearheaded a negative campaign against the company during the post 2017 general election period. The campaign by Mr. Odinga had called on opposition followers to boycott products of some companies, among them Bidco Africa. No evidence of wrongdoing on part of Bidco was ever tabled by the opposition leader. "I commend Bidco on crossing another milestone and wish them all the best as they continue growing which benefits the economy," he added.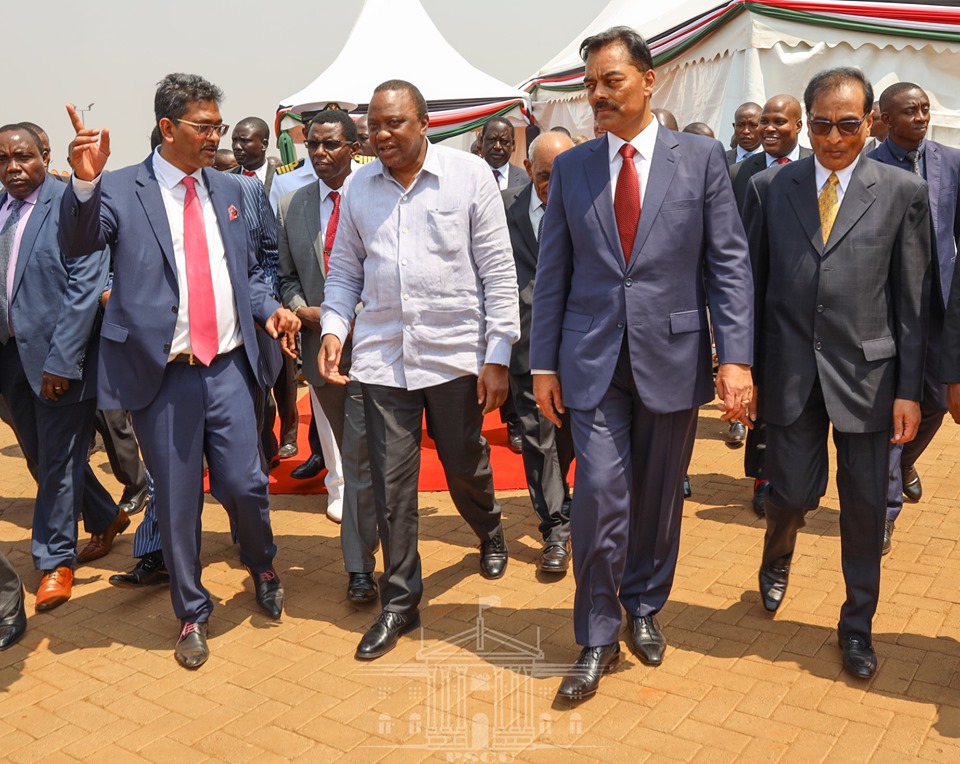 Bidco's journey into a market leader has been evolutionary. When it was started over 30 years ago by Bhimji Depar Shah, Bidco was a garment manufacturing company. In 1985, it shifted to soap manufacturing. In 1998, it acquired the Elianto brand from Unga Limited and went ahead to make it a household name.
In 2001, Bidco acquired a soap manufacturing plant in Dar es Salaam and a year later, it acquired a number of brands from Unilever. It continued expanding its products to include liquid soaps and the Germonil toilet cleaner. In 2017, Bidco Africa launched a new detergent factory and a new washing powder called Msafi. This plant was put up at a cost of Sh. 2 billion and produces over 3,000 tonnes of detergents per month.
President Uhuru opens Bidco Industrial Park
In January 2018, Bidco Africa and Denmark's CO-RO, one of the world's leading providers of fruit-based soft drinks, launched Suntop juices into the Kenyan market. The Suntop juices were launched under a joint venture called BIDCORO. The joint venture launched four new varieties of Suntop juice including Orange, Mango, Berries and Blackcurrant in packs targeting every consumer group from the 1 litre family pack, a 250 milliliter pack and a 125 milliliter pack for younger children.
Speaking during the launch, deputy president William Ruto said that the industrial park will be a major player in the growth of the Kenyan economy. "The Bidco Industrial Park will be a hub of value addition, youth employment, especially graduates of TVETs, and a magnet for investors. It will answer the demand of a growing, robust economy; service the energy-intensive sectors of manufacturing and industry that are pillars of the Big Four," said Mr. Ruto.