NAIROBI, March 2018: Expeditions Maasai Safaris has been nominated for the coveted World Travel Awards (WTA) 2019 under Kenya's Leading Travel Agency category.
Commenting on the nomination, Expeditions Maasai Safaris Founder and CEO, who recently scooped the Young Entrepreneur of the Year Award, Pancras Karema said: "WTA is a global
leader in global benchmarking for excellence in travel and tourism industry and we are greatly honored to be nominated for the coveted awards under Kenya's the leading travel agency category. With the voting open, we ask our clients and supporters to cast their votes in our favor so that we can continue proving the most affordable holiday offers."
WTA was established in 1993 to acknowledge, reward and celebrate excellence across all sectors of the tourism industry. Today the WTA brand is recognized globally as the ultimate hallmark of quality, with the winners setting the benchmark to which all others aspire.
Expeditions Maasai Safaris is a leading tours and travel company widely hailed for offering the most affordable travel deals for all types of travelers and corporates in Kenya.
The tours and travel operator mainly serve two major types of travellers- individual/family
travelers and the Kenyan corporate by offering exciting and unique beach or bush holiday
experiences within Kenya and countries like Zanzibar, Dubai, Seychelles, Greece and Bangkok.
Mr. Karema attributes the success of Expeditions Maasai Safaris to consistent customer service, a dedicated team that works around the clock to keep their guests happy as well as their speed of adapting to the changing needs of the modern traveler.
"We believe winning the highest accolade in the travel industry will make a difference to our business and we remain confident that our valuable clients and supporters will once again express their confidence in our services by voting for us overwhelmingly," he said.
Expeditions Maasai Safaris has enjoyed a growth track record over the last four years and is committed to winning a huge share of the travel market and becoming Kenya's most trusted and recognized travel partner by the year 2021.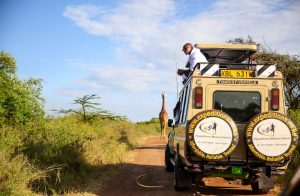 Last year, Mr. Karema won the Young Entrepreneur of the Year Awards 2018. The Awards are organized by Bizna Kenya, a leading marketing and business support provider for small
businesses in Kenya, to identify upcoming and industrious entrepreneurs below 35 years old with great business acumen. Through the Awards program Bizna Kenya seeks to create a network of outstanding young entrepreneurs and encourage more to start their own businesses.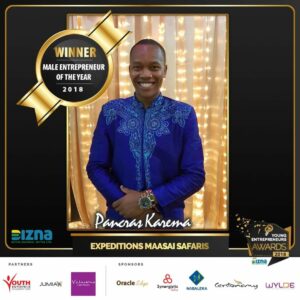 To Vote for Expeditions Maasai Safaris, please follow the simple steps below:
Step 1.
Click https://www.worldtravelawards.com/vote and Register
Step 2.
Open your email and Click "Verify your Email"
Step 3.
Once you have verified your email, click "Start Voting"
Step 4.
Scroll to "Select Region" and click "Africa"
Step 5
Scroll to No. 126 and Click "Kenya's Leading Travel Agency"
Step 6.
Click Expeditions Maasai Safaris
Step 7.
Take a screenshot of your votes NB various items to be won including 3 days all inclusive fully paid holiday
A HUMBLE REQUEST
Share & Request all your friends to do the same and together let's bring this prestigious award home!
IMPORTANT 🎁
Share a screenshot of your votes to 0731521789 for a chance to win various goodies including 3 days all inclusive fully paid holiday.
Thanks in advance.