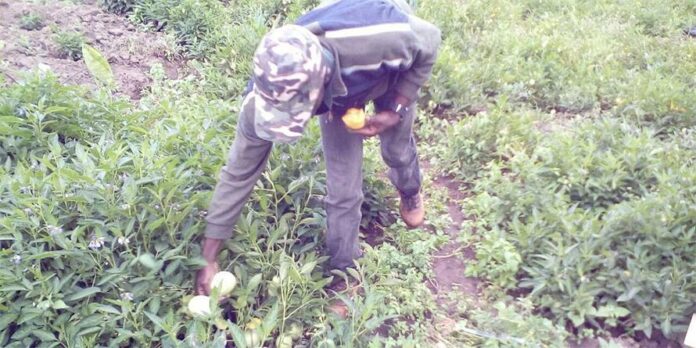 Wilson Ndung'u invested three-and-a-half years of his life training to be an accountant. The result was a Diploma in Accountancy from Kimathi University that he earned in 2014, only to find he couldn't get a job. But three years later he is earning more farming Pepino melons instead.
From two acres in Nyeri, Mr Ndung'u is now earning Sh120,000 a month, harvesting around 300kg a week of the Pepino fruits, and selling them for Sh100 per kg in markets across Nyeri Town, Nairobi and Central Kenya, as well as to retailers and individuals.
"I started growing Pepino in 2009, when I was still a student at Gichungo secondary school after being introduced to it by a friend," said Mr Ndung'u. "I began with just one plant." However, that tiny beginning has since transformed Mr Ndung'u's fortunes.
In two years he completed a Certified Public Accountant training, but could not get a job.
"After graduation, I began perusing newspapers to check for available vacancies in the financial sector in Kenya. I made roughly two to three applications per day from September 2015 to mid-March 2016, but was only called for six interviews in all that time, and was never successful," said Mr Ndung'u.
"I, therefore, decided to increase the land under Pepino melons from the initial half an acre to two. I asked my father for more land, as I believed I could reap more from the sale of the fruit, and used Sh150,000 I had saved earlier from the sale of the fruits to cultivate the land, buy sachets for propagating the Pepino plants, and pay casuals to plant the fruits."
Mr Ndung'u's initiative has quickly paid off, with his monthly earnings from the farming now delivering almost 50 per cent more than he would have been earning as an accountant.
By mid-career, accountants in Kenya earn an average Sh78,500 a month, according to Payscale.com. Thus, in just two years, Mr Ndung'u's farming enterprise has taken him soaring over his planned lifetime career's average earnings. The Nyeri farmer now has his sights firmly set on increased expansion.
He began with Pepino melons because the market was strong, and the investment minimal. The pepino melon plant is a perennial, with a lifespan of four and half years, that is propagated from cuttings, and only needs support to keep fruits above the ground. It yields fruits after 75 days.
An acre can support around 4,900 sticks, which with rains or irrigation, each yield six to eight mature fruits per month.
Melon sells well, thanks largely to its health benefits. Pepino is entirely edible, providing fibre that aids digestion. But the fruit also has large deposits of vitamin A, C, K and B, and is rich in minerals such as copper and iron, which are essential in blood formation and in boosting immunity.
Potassium in the fruit also helps in lowering blood pressure and improving blood flow, as well as in central nervous system co-ordination.
The melon is additionally a diuretic, accelerating the passage of urine, which is a key benefit for patients with diabetes, which is prevalent in Kenya.
The farmer regularly applies mulch, manure and fertiliser to retain water moisture and soil fertility.
"I apply chicken manure at the rate of five bags per acre once in a year to improve the fertility due to the black cotton soil in my farm."
"It's also important farmers don't plant the melons on land previously used for tomatoes," he advises, saying the plants are susceptible to diseases that affect tomatoes such as blight and bacterial wilt.
He has 9,000 Pepino plants, sells seedlings to prospective farmers at Sh100 per seedling, and with a young family, he now plans to branch out into kiwi fruit farming too.
"I honestly don't know how my life as an accountant would have been. But I am enjoying my new found career in farming, and I advise young graduates out there to try farming as a full time job," said Ndung'u.