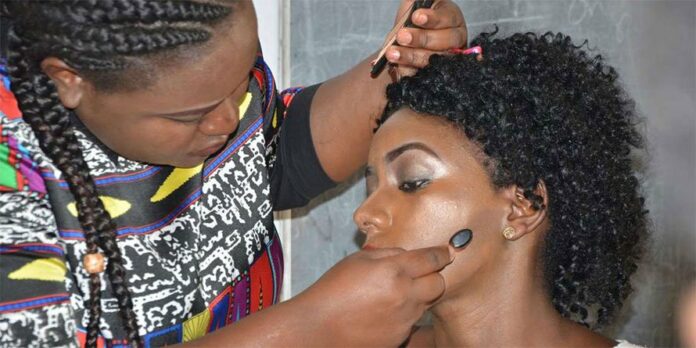 BY PAULINE ONGAJI / BUSINESS DAILY
What has Sh. 40 got do to with starting a business? For most of us: Nothing. But that was enough capital for Brenda Juma to start a makeup business in Kenya in Nairobi four years ago.
Ms Juma bought a razorblade and an eye pencil and began working on clients' eyebrows: that was the beginning of Jumsy Makeup, a company that despite its humble beginnings now fetches its founder a tidy sum.
Today her main sources of revenue are makeup for brides; film, photo shoots and TV personalities.
Her services also include consultancy for individuals who either want to learn how to do their daily makeup or train for the art.
"Our starting fee is Sh. 3,000 per session. We also advice on alternative home remedies for a good skin and even help clients shop for right products,' she said.
Ms Juma said that the daily rates for bridal parties ranges between Sh. 15,000 and Sh. 50,000, adding that they handle at least two weddings per month.
For special effects makeup her prices ranges from Sh. 10,000 to Sh. 30,000 per session. "This category is divided into two packages. In one type the process involves the use of prosthetic, which is expensive since we import the materials. We also have the manual package which involves use of basic makeup," she said.
Ms Juma's expertise has seen her list of clients grow to include companies, fashion stylists and brands. She also gets part-time lecturing jobs in institutions of higher learning.
"I teach costume and makeup art at Kenya College of Accountancy and the Africa Film and Television Talent Training Institute," she said.
She also offers individual lessons in the art. She mostly trains young people keen on pursuing the art as a profession.
What inspired her? "I have always loved neatness, and yes, the face has to look neat too," she said. Her passion for special effects makeup was inspired by Nigerian movies. "I admire the way they use special effects makeup, especially during tragedies," she said.
Her dream is to own an institution that specialises in makeup training.