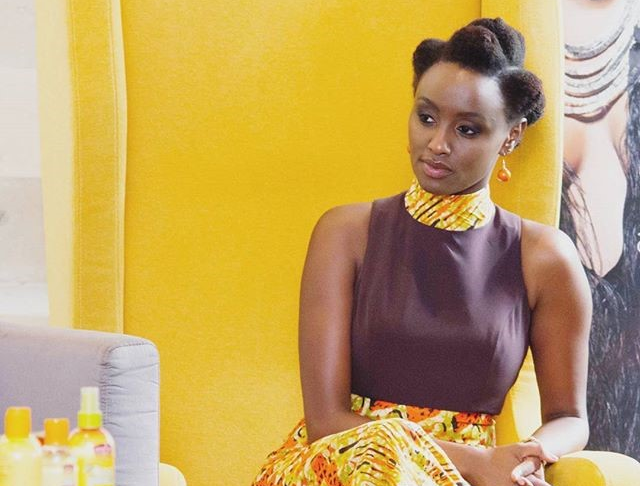 For starters, Michelle Ntalami is one of the most sought after young, successful and self-made entrepreneurs in Kenya and Africa. She is the founder of Marini Naturals, Africa's first full-range hair care line for all natural and Afro-textured hair. In her words, ' It begins with an idea.' For the longest time, Kenyan women have been skeptical about the beauty of their rough textured, prone to shrinkage, dark, natural hair. It's just the other day that the gods revealed to them that African natural hair as hard and stubborn as it is can be tamed. As at now many Kenyan women would prefer wearing their natural hair to work as  they not only find it accentuating but also very economical. With the demand for natural products, Michelle is surely reaping off the fruits of her hard labor.
It all began in 2013, she decided to go natural. "I spent so much time and money in search of the perfect products that could work on my kinky African hair I began importing a few and but these were too expensive to sustain. Being a natural myself, I understood what other natural African women must be going through everyday in the quest to find quality products or regimens that actually work, without leaving their pockets dry." she attested
"Conceptualizing the business idea from start to finish was the first challenge when I started Marini Naturals. I wanted to do everything at the beginning: start it, walk through the journey and see the end, but it's not possible. I decided to relax and take one step at a time. You can only see the journey as it unfolds.
Getting the capital was another challenge. It's not easy to get money to start such a business, it's really capital intensive. I however managed to collect some funds from family and also my brand consultancy firm, which I consolidated and put into a savings account and used to roll out the business."
Together with her best friend Niyati, they chose to dominate the market with amazing hair care products under their brand name Marini Naturals.
But it has not been easy keeping up the top position.
"We are in the process of revamping Marini Naturals' look as a company. We are switching up packaging and improving formulations. We have been in the market for about two years and the feedback is overwhelming, both good and positive criticism. We have a huge demand from people with dreadlocks, so plans are already underway for that specific line. We have many plans that we are going to roll out in the next two to three years. We want to be Africa's leading line in hair care."

Marini hair products are so pocket friendly ranging between 600 to 1300 shillings. Rest assured of quality and a longer time frame. Indeed, good things take time. That thing you are struggling with could be the all time business  bringing in millions.