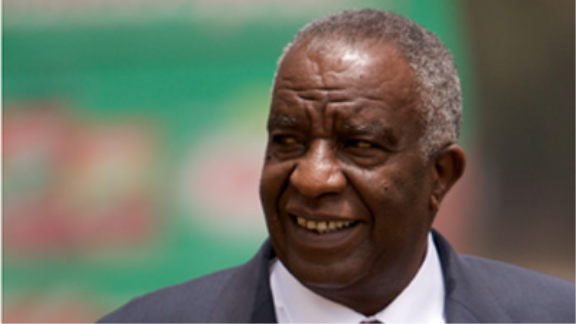 BY BUSINESS DAILY
Peter Munga is set to sell 348.5 million shares of financial services firm Britam worth Sh. 4.8 billion to Zurich-based insurance giant Swiss Re, completing his disposal of the 452.5 million shares he acquired from former owner Dawood Rawat in 2016.
Mr Munga first sold 104 million shares worth Sh. 1.4 billion in the open market last year as he raced to meet his self-imposed deadline of selling the stocks by August this year.
Britam made public the latest shares transaction in a notice sent to the Nairobi Securities Exchange in line with the market regulations.
"Britam Holdings Plc (Britam) has been informed by one of its key shareholders, Plum LLP (Plum) that Plum has on June 11, 2018 entered into a Share Purchase Agreement (the SPA) with Swiss Re Asset Management Geneva S.A., Carouge (Swiss Re), pursuant to which Swiss Re will purchase three hundred and forty eight million, five hundred and four thousand (348,504,000) ordinary shares (the Shares) in Britam from Plum (the Proposed Sale)," Britam said.
Upon completion of the proposed sale, Swiss Re will hold approximately 13.81 per cent of the issued ordinary shares of Britam.
The latest transaction places the total value of the share sales at more than Sh. 6.2 billion.
Mr Munga has neither disclosed the price at which he acquired the shares nor the price at which he is selling, making it difficult to determine the benefits accruing to him from the transactions.
The billionaire businessman, who still retains a significant stake in Britam of more than 10 per cent through various investment vehicles, has been holding the Rawat shares under his company Plum LLP.
Swiss Re said it is investing in Britam for the long term, making it the latest in a string of high-profile institutional investors that have bought into the local insurer over the past two years.
Britam has raised Sh. 9.2 billion by issuing new stock to International Finance Corporation (IFC) and private equity firm AfricInvest. Mr Munga bought the 452.5 million shares from the government of Mauritius, which seized and sold several of Mr Rawat's assets.
Mr Rawat, a Mauritian national, was accused by his government of running a $693 million (Sh. 69.3 billion) Ponzi scheme in the island nation. Mr Munga earlier said he would hold the shares temporarily, adding that the transaction was motivated by the desire to eliminate investor uncertainty brought by Mr Rawat's troubles at the time.
"It is not our intention to hold the acquisition shares for the long term," Mr Munga said through Plum LLP when the deal was announced in July 2016.