TSC Career Promotions: The Teachers Service Commission has advertised for the promotion of some 15,226 teachers. These promotion vacancies will cater for promotion vacancies for deputy principals, senior lecturers, senior masters, curriculum support officers, head teachers and deputy head teachers.
These promotions will be carried out through the TSC career progression guidelines.
 The advert by the TSC shows that currently, there are 6,680 senior master IV positions that are vacant, 2,111 primary school head teachers jobs and 1,765 deputy head teacher II posts. There are 1,590 vacancies for teachers in position of deputy principal III, 1,096 for deputy principal II and 1,341 for deputy principal I. Curriculum support officer II has 209 vacancies, senior master IV has 350 and senior lecturer IV has 45.
"Interested candidates, who meet the required qualifications, should make their applications online through the TSC www.teachersonline.go.ke so as to be received on or before 13th January, 2021. Please note that manual applications will not be considered," the TSC said in the advert.
To check out all the requirements you will need for the vacancies, Click this link: All TSC Promotion Requirements and Qualifications
Here is the full advert: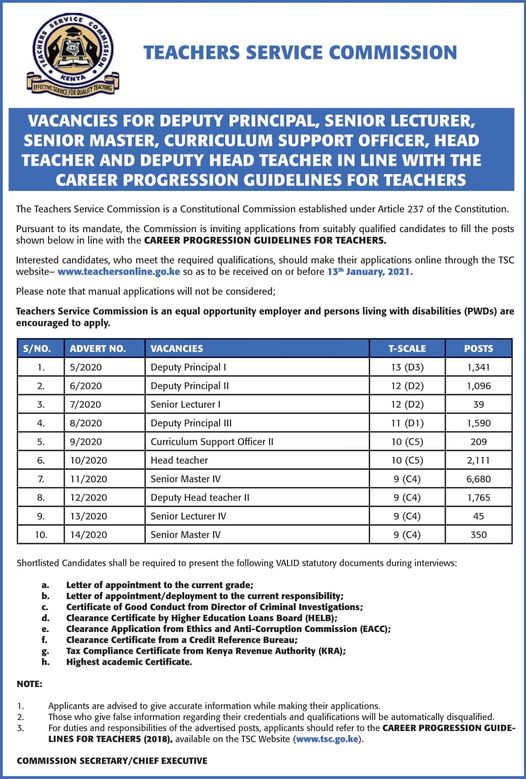 "For duties and responsibilities of the advertised posts, applicants should refer to the Career Progression Guidelines For Teachers (2018), available on the TSC Website," the TSC said.