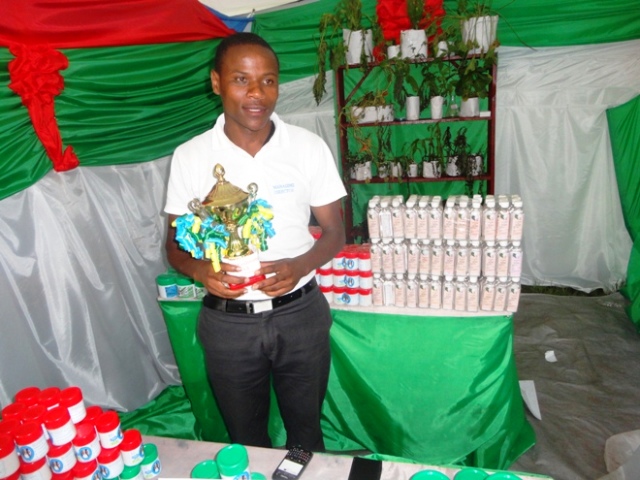 I guess you are surprise also very curious to know what kind of business someone could start with $10. You know what they say? "In the world of movie everything is possible". But hey, this is not a movie. It is happening right here in Africa (the land of endless opportunities).
This is the inspiring story of a science teacher, Cephas Nshimyumuremyi from Rwanda who started his business two years ago with $10 [N2, 000]. His company, Uburanga Products, which makes herbal jelly and soap from local medicinal plants is worth $30,000 [N6m] and employs 12 workers.
He said that the $10 helped him to buy the empty bottle in order to put his product on the market. From trying to teach his student how the science they were learning in class could be applied in practical ways, the idea to create natural cosmetics with healing properties was birthed. This also led him to launching his company so as to supplement his income from teaching.
Three(3) vital lessons you can learn from this bright entrepreneur:
1. Start with little, use your knowledge:
According to Cephas Herbs used in his remedies are grown in botanical garden, then dried and mixed to create either soap or jelly. The products made by Uburanga help the skin to be smooth and free from bacteria which can cause skin disease.
Now, that is like using what you know to get what you want. Perhaps to reduce cost, Cephas used the local medicinal plants used by some traditional healers in a scientific way. His goal is to provide the solution for more skin diseases In Africa.
2. You don't always need huge capital to start a business:
Many entrepreneurs think that they need a million dollar capital from a bank or investor to get started but that's not always true. Cephas like many other entrepreneurs across Africa who are struggling with capital to fund their start-up has proved to us all that you can actually start and run a successful business with little or no capital.
3. Start locally, think globally:
The world is bad. The world is corrupt. The government official is corrupt. And all those complains are what you'll hear from an average African youth. But you know what I think? You are not the savior of the world. It is not your duty to solve all the problems of the world. You can start just right where you are from your immediate environment to change the world.
Did he encounter any challenge? Yes, like any other start-up, his challenges were:
Getting the word out about his product to the wider audience.
High cost of materials (containers) in which his products are sold.
Did he give up? No
Did he succeed? Yes!
Now, it's your turn!