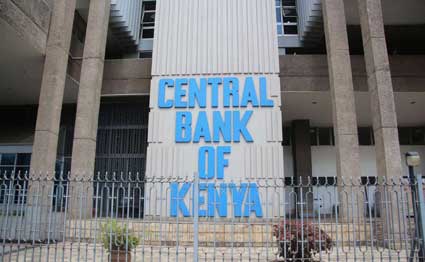 The Central Bank of Kenya has roughed up  five major banks in the industry with heavy penalties for going against the set rules in handling the National Youth Service scandal that dragged into the public eyes this year.
These banks violated the requirement of Kenya's Anti-Money Laundering/Combating Financing of Terrorism laws and regulations. The Standard Chartered Bank Equity Group, KCB Group, Co-operative Bank of Kenya Ltd, and Diamond Trust Bank (DTB)  fell victims of the wrath.
The penalty has amounted Sh392 Million for the five banks. KCB Group has been penalized a whooping Sh149.5 million followed by Equity Bank at Sh89.5 million while Standard Chartered Bank will pay Sh77.5 million. DTB has been fined Sh56 million while Co-operative Bank will pay Sh20 million.
While handling the NYS  StanChart ate a big chunk of the pie worth Sh1.6 billion followed by Equity Bank at Sh886 million, while KCB processed Sh639 million. The five banks handled  a total Sh3.5 Billion from the NYS
The regulator says this is the first phase of the investigation where the banks in question violated the financial transaction rules.The violations include failure to report large cash transactions, failure to undertake adequate customer due diligence, lack of supporting documentation for large transactions, and lapses in the reporting of Suspicious Transaction Reports to the Financial Reporting Centre.
"CBK has discussed the detailed findings with Boards of Directors and Senior Management of each of the banks. Each has expressed their strong commitment to be fully compliant on all aspects of the law, and addressing the identified lapses through time-bound Action Plans. These Actions Plans will be submitted to the CBK within fourteen (14) days and CBK will closely monitor their implementation. More generally, CBK will work with all other banks to ensure that these findings are also applied to strengthen all AML/CFT frameworks,"  said CBK  in a statement.
CBK has shared the findings with the relevant investigative agencies for their appropriate action. Further, an additional set of banks will also be identified and investigated. The Director of Criminal Investigations (DCI) George Kinoti has since set up a team to investigate the Sh9 billion lost.
"The second phase of the investigations will involve the use of these findings by other investigators, inter alia, assessment of criminal culpability by the Directorate of Criminal Investigations (DCI) and the Office of the Director of Public Prosecution (ODPP)," the regulator notes.
The team is seeking to establish how taxpayers money could have been siphoned from the NYS by unscrupulous individuals.
The Ministry of Public Service, Youth, and Gender Affairs has since indicated that the payments of all pending bills have been suspended to cushion against any further loss of public funds at NYS.