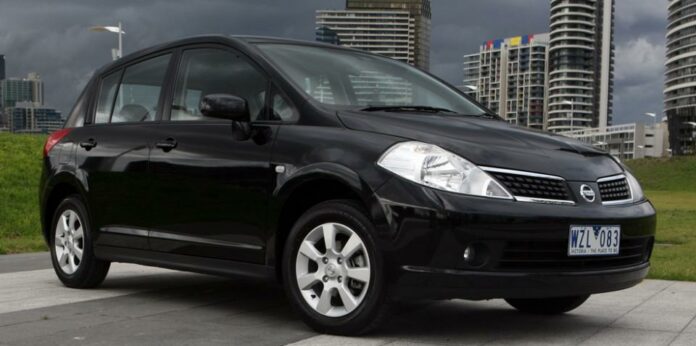 Nissan Tiida Review: The Nissan Tiida, which replaced the popular Pulsar nameplate back in September 2004, has been struggling to assimilate into its segment.
Although Tiida tries to compete on the same playing field as its Japanese brethren (Civic, Corolla, Impreza, Lancer, Mazda3, SX4) it's obvious by fact of its dimensions that the car is noticeably smaller, especially in terms of cabin width.
The inboard placement of seat controls, non-existent gap between the door and the seat cushion and knife edge rear-centre seat testament to the car's more narrow-bodied origins.
Cargo capacity too, although not the worst in this category, is rather lacking at 289 litres. Thankfully 60:40 split fold seats are availed.
However, it isn't just the mismatched interior dimensions that leave Tiida playing catch up for under the bonnet it's much the same story. Nissan's MR18DE four-cylinder engine is starting to show its design age managing only 93kW/174Nm from its 1.8-litre capacity.
The output, on paper at least, is rather average when compared to rivals of comparable capacity but for its lack of numerical endowment, Tiida's engine is at least enthusiastic in delivery managing a 0-100km/h time of 10.8 seconds.
Okay so it's not going storm the salt flats, and with such little torque on hand you will be kept busy on the gearbox, but what a great little box of cogs it is, and I will admit, I did enjoy the engine – transmission combination in this car for its unerring ability to rev, decent mid-range flow and close adhesion to fuel economy claims (7.9L/100km as tested).
There's also a tendency for Tiida to understeer in the wet at even modest speeds, and without Electronic Stability Control (ESC) or Traction Control to intervene, a lot of how the car responds in such situations will come down to driver input.
Dry roads do see a slight improvement in character though the front-end push is still quite evident. Added cabin height means body roll does encroach on Tiida's abilities, a factor exaggerated by the spindly 15-inch wheels.
Fortunately the car redeems itself in offering quiet highway cruising and a high seating position that makes the most of the car's large glass house for excellent all round visibility. The seats are well formed offering suitable support and are reasonably comfortable on longer trips.
Decor is simple but functional and allows minimal distraction when driving – especially at night. Features include dual front and curtain airbags, single CD tuner, cruise control (on automatic Q models only), front fog lamps, power windows and mirrors as well as remote central locking with panic alarm.
Sadly, and perhaps again as a result of Tiida's design age, this mid-upper spec effort simply cannot compete with its competitors in terms of kit missing out on features now commonly found (sometimes as standard) in same priced rivals.
Of note Tiida omits tilt/reach adjustable steering column (tilt only), reverse sensors, auxiliary audio plug-in, remote audio controls on the steering wheel, cruise control on manual models, Bluetooth connectivity, satellite navigation, climate control and a centre console.