Safaricom Sh20 Smartphone: Safaricom customers can now access a brand new 4G-enabled smartphone by paying as low as KES20 daily for the devices. In a unique partnership with Google and a first in the world, Safaricom will now give qualifying customers easier access to the internet through the Neon Ray Pro, a 4G Android (Go edition) smartphone.
So how do you get yourself one of these phones? Here is a breakdown:
What is Safaricom's Lipa Mdogo Mdogo Service?
Lipa Mdogo Mdogo Service is the first of its kind device-financing proposition that allows customers to acquire a select range of smartphones from Safaricom retail shops and pay in easy daily, weekly or monthly installment while enjoying all the benefits that come with being online. The repayment plan allowed is upto 12 months.
Why Should I subscribe to the service?
Safaricom is FOR YOU. Once you subscribe, you will be connected to a world full of economic opportunities presented by internet access.  Besides, Safaricom will assure you of the availability of genuine cheap devices that come complete with warranties enabling you to enjoy the benefits of a digital lifestyle.
How do I qualify for the Lipa Mdogo Mdogo Service?
The service is open to all Safaricom customers who meet the following criteria;
a) A favorable Credit score done by Safaricom (Based on a device Financing Credit Score).
b) Age on Network: They need to be on the Safaricom network for a minimum of one (1) year.
c) Over 18 years of age and below 75 years of age.
Once qualified, how do I participate in the service? 
To participate, dial *544# from your device, accept these Terms and Conditions to opt into the Service.
You will receive an SMS informing you of your eligibility and the value of the device you can purchase under the Service.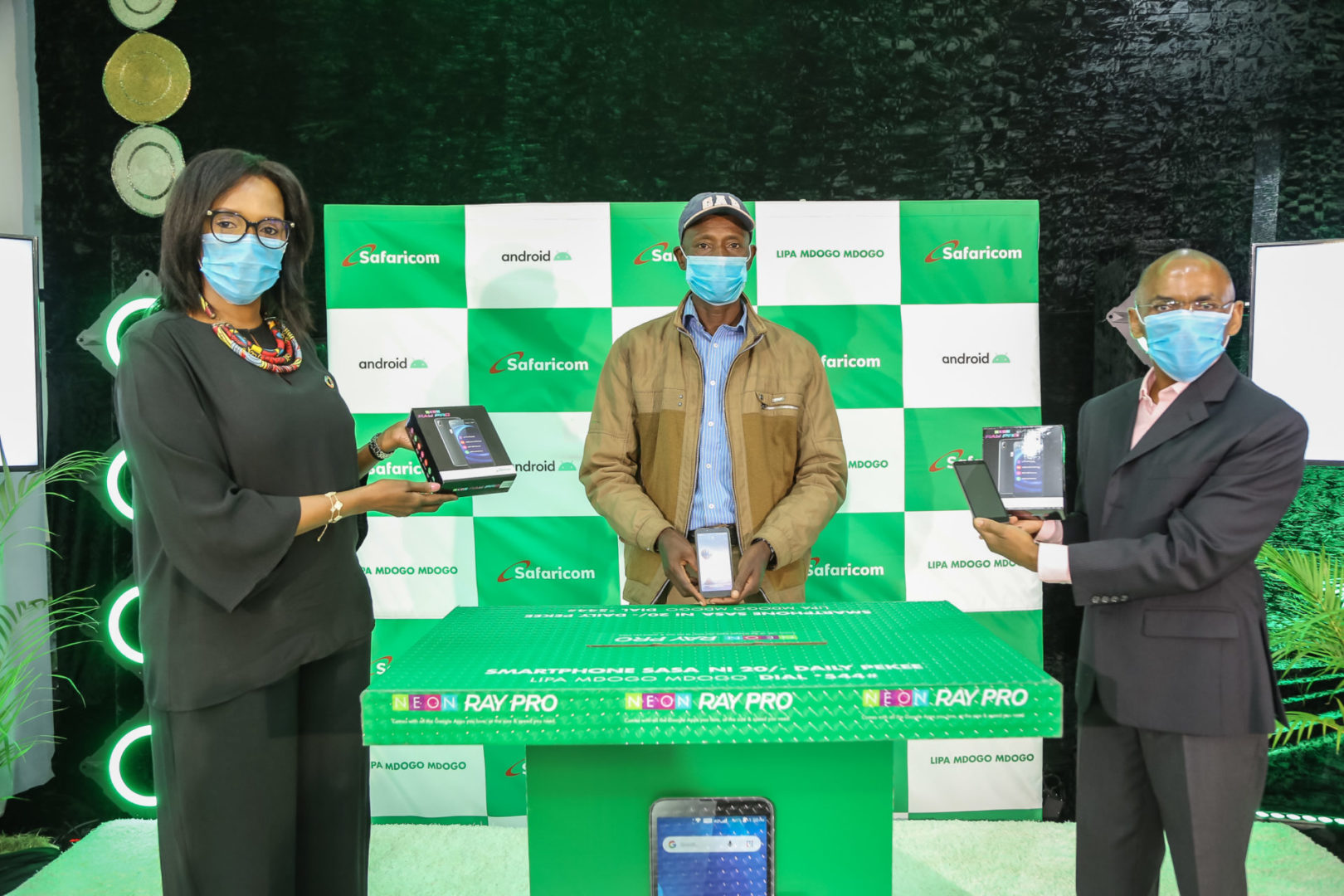 Proceed to select your device of choice and make a down payment through M-PESA.
Go to any Safaricom shop near you where the staff at the shop will conduct a know your customer check to verify your identity after which, the sale will be processed, and the device will be issued to you. ( the device is fully set up for the customer before leaving the shop)
Repayment can be done in the following intervals: daily, weekly, partial or full payment. It is good to note that a customer can pay as low as KES20 a day.
Safaricom will communicate through SMS with loan balances in daily reminders as follows: 8:00am, 12:00 noon and 5:00pm.
What happens when I fail to pay my dues as elected?
The service allows customers to make repayments in daily, weekly, or partial intervals. If possible, a customer can make a full payment. However, in case of a default;
On the fourth (4th) day of the repayment remaining outstanding, Safaricom will lock the device, limiting your use.
Should you be in default on the 7th day, you will be barred from all outgoing calls and SMS.
Where you default for thirty (30) days, you will be blacklisted, be disqualified for subsequent device loan facilities and your details will be forwarded to CRB.
Are there any incentives given to customers who pay their loans in time?
Where subscribers have elected to make daily payments and they make their payments consecutively for 7 days, they will receive 100MB free YouTube bundles. The bundles are valid for a duration of 30 days from the time of activation after which they will expire.
Can I transfer the bundles to any other subscriber?
The Free Resources awarded during the service period are not transferable, and their use will be governed by the applicable Terms and Conditions available on the Safaricom website (www.safaricom.co.ke)
Is this service open to both Prepay and Postpay customers? What can disqualify a customer from participating?
While participation is open to all Safaricom subscribers, those who are blacklisted on KCB M-Pesa, Mshwari, Okoa Jahazi and Okoa data or locked due to fraud will NOT be able to participate.