Uhuru's House Gift: BY DAILY NATION: A woman from Bahati Constituency in Nakuru County has shocked many rejecting a house gift from President Uhuru Kenyatta. The single mother has termed the gift as a big joke and substandard.
According to a news feature that was published in the Daily Nation on Saturday, the woman ha been promised the house after her son Dennis Ngaruiya thrilled the president with a poem four years ago during the Kenya Defence Forces day celebrations at 3KR Barracks in Lanet, Nakuru.  The president had offered to build the house as a gesture of good will to the son.
"Ms. Damaris Wambui Kamau said the house was not what the President Kenyatta had in mind when he ordered a State House official, a Mr Wanjohi to ensure the family had a decent home. This is a big joke. Look at this house. It has cracks on the outside and looks like a semi-permanent house while President Kenyatta in his wisdom meant well for us as a family,'" the Saturday Nation reported.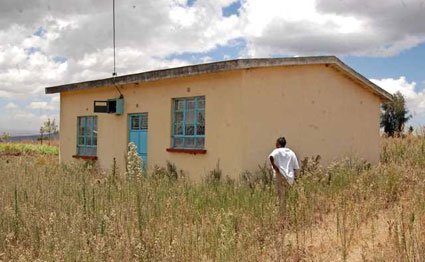 The Nation has also reported that State House Spokesperson and Head of Presidential Strategic Communication Unit (PSCU) Kanze Dena insisting that the house is of high standard and is well equipped.
Ms. Dena was also quoted that the lady will be given mattresses and utensild. She was also reported saying that the land on which the house stands was bought next to a land that belongs to a man who works at State House. The land is estimated to have cost some Sh. 650,000. Apparently, Ms. Kamau had identified another plot in the area in a relatively good location but the ploy was rejected by officials from State House. She was also reported saying that the house was previously occupied and was not newly built as the president had promised.
After rejecting the house, the single mother is still living in a rented mud house in Lanet area some four kilometres away from Uhuru's gift house.