We all want to spend little for the best products, especially with the current hard economic times, shoppers are keen on ensuring they don't spend much of their money on shopping.
Jumia's Black Friday Offers, is most definitely good news for all shoppers in Kenya.
There are unbelievable price reduction s on all products ranging from electronics, home appliances, consumer goods, smartphones etc.
Through its favorable pricing, e-commerce pioneer, Jumia Kenya is beating out the competition, even when pitted against international e-retailers like Amazon. For instance, bellow shows the price comparison of Tecno Camon CX Air in two online stores;
shopit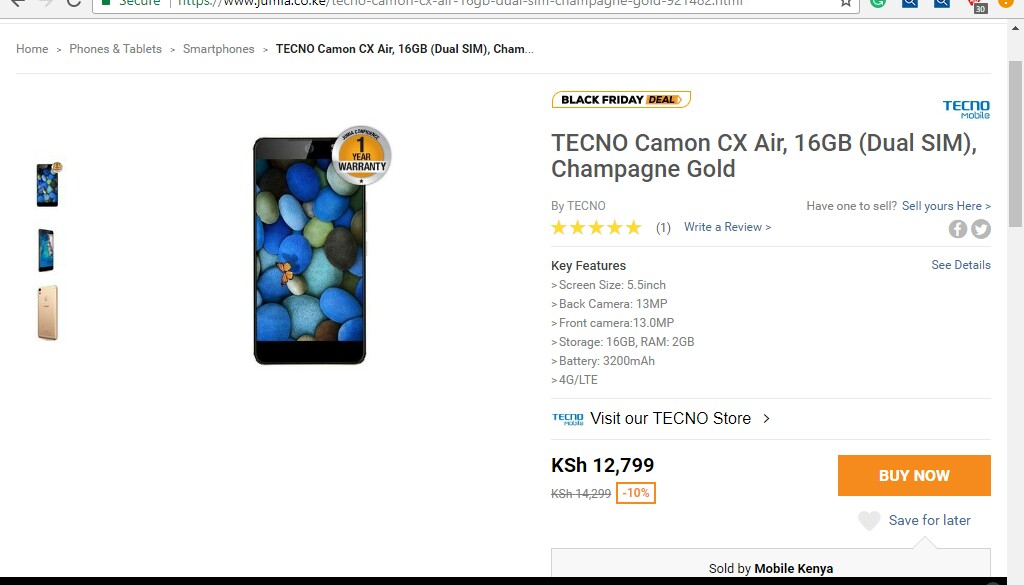 Jumia
The price of Tecno Camon CX Air on shopit.co.ke shows a price of 15,700ksh. On Jumia, it currently sells for 12,799ksh.
Even a quick price comparison of popular outdoor markets and physical stores shows that Jumia Kenya is keeping good on its word of giving shoppers the best prices. The e-commerce giant remains competitive, and in several cases cheaper than several well-known retail shops, outlets and open air markets such as the popular Maasai market.
Another example is  RAMTONS RF/158- 70L 1 Door Fridge which at Tusky's Supermarket goes for 18,500ksh, on Jumia the same fridge goes for 9,999ksh!
 Also, the iPhone 7 plus 32GB is also available on Jumia at 85,685 ksh, but at one popular offline physical stores, the best price is 100,000ksh.
Jumia Kenya's Chief Commercial Officer, Diana Owusu says that Jumia's best price strategy is coupled with the widest range of genuine products to help shoppers stretch their shilling and get more value out of their budget and spending.
"There are more than 500,000 products on Jumia.co.ke  ranging from furniture to baby products to electronics," Ms Owusu said. "Our commitment is to consistently bring shoppers the widest range of genuine products at the best prices."
Ms Owusu also highlighted the availability of customer protections on Jumia, which aren't offered by most physical stores in Kenya: "Jumia customers can pay cash on delivery, enjoy a 7-day return policy,  have access to device insurance, and also enjoy free shipping offers and discount vouchers," Ms Owusu said.
"For those who like to shop abroad, Jumia features international stores where you can shop and pay in shillings and enjoy local shipping rates," Ms Owusu said.
Regular Jumia customer, Mrs. Otieno, while reminiscing about her shopping experiences on Jumia said, "I love the attention Jumia pays to us, and it shows how they cater for all regardless of budget and social status. You feel wanted and at home."
Mr. Kamau testifies that he's been happy with his purchases so far: "When I think of buying a new mobile phone, the first place that comes to my mind is Jumia. They always have a very good discount on mobile phones and this has given me and many others access to premium mobile phones."