Did you hear of a man who recently paid dowry using Bitcoins? This is just a glimpse of how much of a big deal this cryptocurrency has grown to be.
Thousands of Kenyans have developed an interest in Bitcoins and are eager to learn more about it.
Previously, the idea was that Bitcoin and cryptocurrencies are a passing fad. In some circles, they were thought of as fraudulent schemes. Over time however, the perception has changed and we're seeing a real interest when it comes to trading, investment, and its acceptance as a currency.
In light of this, Bitcoin Africa has decided to organize an event that will help more people learn about Bitcoin, altcoins, and the opportunities that come with it. Previously, most of the events were targeted at audiences already familiar with the technology or were looking at either trading options or developing applications in the space. As a result, new and interested people have not been well served.
The Nairobi Bitcoin Meetup will introduce people to Bitcoin and the opportunities to earn that exist in the space.
The event will also offer an opportunity to brands for increased exposure and more opportunities for new entrants to discover brands playing in the space.
Important Details On The Nairobi Bitcoin Meetup
The event will be held on November 30th, 2017 at the Marble Arch Hotel from 6.00pm to 8.30pm, entrance will be absolutely free!
The event is targeted at new entrants to the bitcoin space and will introduce attendees to bitcoin, altcoins, and bitcoin investment opportunities.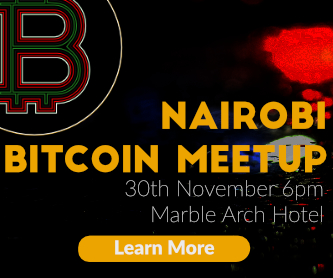 The event will focus on:
• Introducing bitcoin
• Panel discussion on investing in bitcoin
• Opportunities in the bitcoin space
• Regulatory issues
The event is set to bring together experts from the bitcoin community who will discuss bitcoin investment opportunities as well as teach attendees how to mine altcoins.
This one-day event comes at a time when bitcoin awareness, as well as adoption, are reaching new highs in the East African nation as trading volumes on LocalBitcoins and increasing local media coverage of bitcoin are indicating.
Kenya has one of the most vibrant bitcoin economies in Africa and is home to several leading bitcoin startups despite the pushback that bitcoin has been receiving from the Central Bank of Kenya.
For Any Inquiries Contact: David Gitonga
Email – [email protected]